Trader Joe's Fans Are Excited For Its New Thanksgiving-Inspired Fried Rice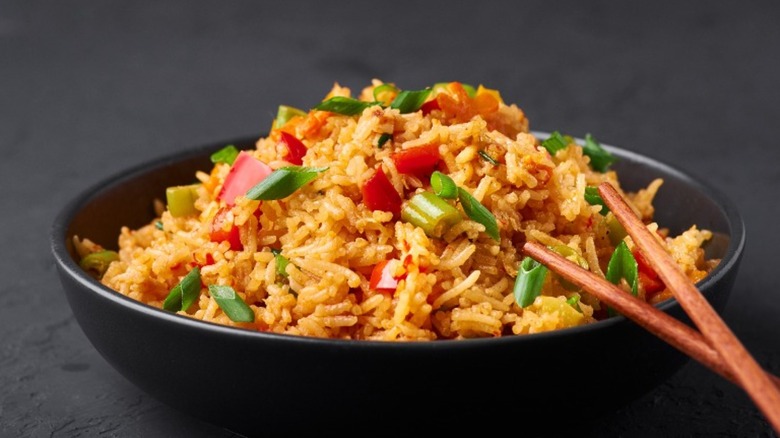 Kravtzov/Shutterstock
While Trader Joe's is known for some of their staple items, the store's seasonal items are usually worth the hype. Pumpkin products had their time in the spotlight, but now that we're approaching November, Thanksgiving is on the mind. With its latest offering, the supermarket is bringing Thanksgiving to another level. Cue turkey sausage stuffing fried rice, which TJ's fan account @traderjoeslist recently debuted on its Instagram page. 
"Well this certainly is brand new! I suppose this is an option if you love fried rice and Thanksgiving," the Instagram post was captioned. 
According to Trader Joe's, this Thanksgiving-style fried rice starts with long-grain rice, which is then mixed with celery, onions, herbs (rosemary, parsley, and thyme) and breadcrumbs to give it a stuffing-like consistency and flavor. Then the turkey sausage gets added to the mix, along with vegetables like green beans, corn, and carrots. And, in a special nod to green bean casserole, you'll also find a few fried onions as well.
Is it actually good?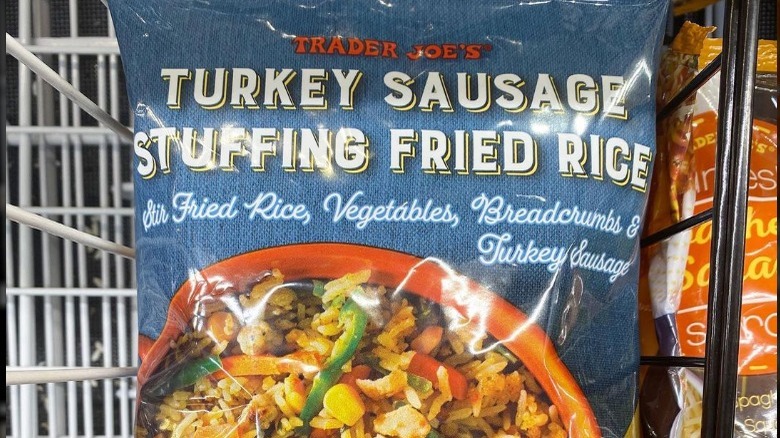 Nungning20/Shutterstock
As it turns out, Trader Joe's fans on social media are already loving this new fried rice option. "Had it for dinner last night it was amazing! I added scrambled eggs to mine, so damn good," said Instagram user @lookitsmindy. "I've tried! It's pretty good, worth the try," added @ana_mariaxoxo. User @ramblingmom noted that her kids also loved it, making this a great (and convenient) family treat.

Trader Joe's notes that the best way to cook this Turkey Day treat is straight from frozen in a sauté pan with butter or oil. In just about five minutes, you can have a complete dinner, or just a homestyle side. And the best part? The turkey sausage stuffing fried rice has a retail price of $3.99 for a 16-ounce bag of goodness. 
If you're loving this dish and want more options like it, you may want to also try the brand's spicy shrimp fried rice or take it back to the traditional Thanksgiving dinner with its gluten free stuffing mix instead.