Aldi Fans Are Loving This Savage Halloween Decoration Diss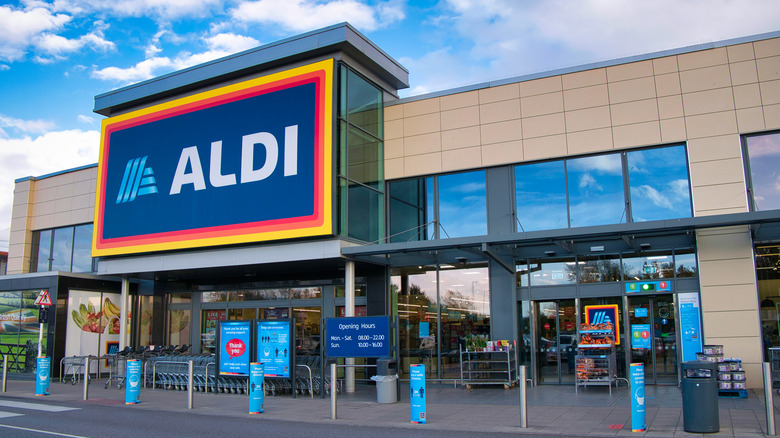 AlanMorris/Shutterstock
Aldi lovers know there are other grocery stores they could shop at — but they just don't care. Shopping at Aldi is a unique and highly affordable experience that has developed a dedicated fan following like few other stores could do. It's for these reasons that one Aldi's recent Halloween décor threw some noticeable "shade" at other area grocers. Most readers are likely familiar with the idea of a carved jack-o-lantern vomiting pumpkin seeds. In a facetious take on a Halloween tradition, making a pumpkin spew out its own innards is often reserved for jokes about frat parties or overindulgence in trick-or-treat candy.
A Richmond, Virginia Aldi store, however, decided to "take things up a notch" and carved their own spewing pumpkin that vomited out remnants of the store's competitors, specifically Publix, Kroger, Food Lion, and Wegmans (via Reddit). The carved pumpkin additionally sported two small flags reading, "Shop differentli" and "Not incorrectli," sharing some hilarious takes on the spelling of the Aldi name. The original poster who shared a photo of the decoration on Reddit quipped, "The local Aldi throwing some shade at their competitors." And turns out, fans love it.
A Virginia Aldi store's Halloween decor is causing a stir online
Aldi is known for being a bit unconventional, and this decoration seems to hit all the right spots with a squinty-eyed carving that takes a shot at area competitors. As Reddit fan @MuffinPuff comments, "Who knew Aldi was so aggressive lmao." While most readers appreciate the joke, there's definitely room for some rivalry on grocery favorites. Says Redditor @kboz667, "Lol I've worked at both, and Aldi can't hold a candle to Wegmans, I like the sass though."
This humorous play on grocery store competition is all in good fun, but Aldi is definitely a big contender in the national grocery scene, giving it some ammo to come up with a decoration like this. Aldi is currently listed as the #9 grocer in the United States in terms of revenue with an estimated worth of $15 billion, although the Albrecht family that owns it is famously secretive about their U.S. numbers (via Food Industry). Mentioned in Aldi's pumpkin display, Publix takes the #5 spot in Food Industry's rankings with $36 billion and Kroger is #2 with $121 billion. The largest grocery giant, however, probably comes as no surprise, with the #1 spot going to the widespread Walmart, grossing $288 billion. With that much competition, no wonder Aldi wanted to make a spooky statement this year.