The Romantic Way Anne Burrell 'Recovered' From Her Wedding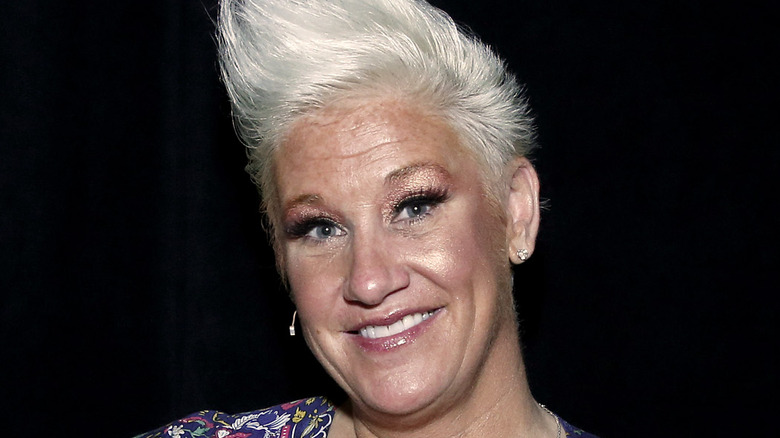 John Lamparski/Getty Images
Best recognized for her spiky icy blonde hair, Anne Burrell has been a Food Network favorite since 2005. After she traveled to Italy in her 20s to study cuisine, since then she has been a rising star in restaurants across the Big Apple (via Food Network) and has found fame on various TV programs.
Burrell met her husband Stuart Claxton in 2018 through the dating site Bumble, according to People. The two lovebirds wed on October 16, 2021, with a dinner menu Burrell created herself. Most of us have a general idea of just how stressful planning a wedding can be, but when the bride takes on every detail of the menu as well — we can't even imagine the stress.
Despite the couple's fairytale wedding going to plan, they chose to skip the stress of a honeymoon — at least for the time being — and instead chose to relax at home.
"The thought of having a wedding up here, then getting home, turning around and going somewhere else is just so overwhelming to me," Burrell recently told Today. "So I'm very happy to just have some home time, and enjoy newlywed bliss at home for a little while."
What newlywed bliss at home looks like for Anne Burrell
Rather than travel for a honeymoon, Anne Burrell and her new husband Stuart Claxton opted to stay home for some alone time and enjoy nights out in New York. Burrell captured one of their magical moments in an Instagram post, sharing a picture of martinis and the menu from French restaurant Le Crocodile in Brooklyn.
In the post, Burrell expressed how she and Claxton had 'recovered' from their wedding and were celebrating with their first date night as a married couple. Burrell's followers were happy to see the couple enjoying their time together, with one saying, "Martini time! My favorite time of the day. Congrats on your nuptials!" And some even gave advice, with one person noting they've been married 45 years, and saying the secret is, "always always make a date night even if it's only a few hours in an afternoon ... Blessings on your marriage."
According to Brides magazine, continuing date nights after getting married is the best way to keep the romance alive. This forces the couple to keep putting in effort and to take time to appreciate their partner. We wish these two lovers nothing but happiness and lots of yummy dinner dates in the future.