Alex Guarnaschelli Is Turning Heads With This Egg And Caviar Dish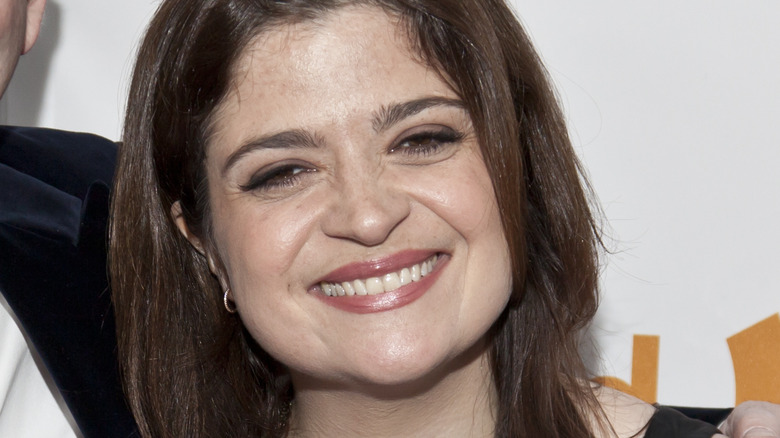 lev radin/Shutterstock
If you're looking to take a break from your usual PB&J, why not take egg-yolk-and-caviar-on-toast out for a spin? Alex Guarnaschelli did, when the chef and TV personality visited a Jean-Georges Vongerichten restaurant and ordered the "iconic" egg and caviar dish. Or, at least, we presume that's what she did. Guarnaschelli was too busy filming the tiny toasted treat and posting it to her Instagram to bother updating us with where exactly she was, who she was with, what the occasion was, etc. Either we're not as close with Guarnaschelli as we thought, or these are simply the effects that this legendary sandwich has on a person.
In the video, Guarnaschelli couldn't even finish her sentence, simply saying "Ooh la la... this just... oh God..." as the camera pans left to reveal her subject. The sandwich is the stuff of Jean-Georges Vongerichten legend; the French chef serves the dish in his eponymous New York restaurant, and his team goes to painstaking efforts to make sure that each one is perfect and perfectly consistent, whether you order it in Manhattan or Tokyo (via Eater). Consisting of cooked egg yolks on brioche bread with a dollop of caviar for good measure, the egg toast is a signature dish at Vongerichten's restaurants for a reason. And Guarnaschelli, whose recent Instagram posts are a mix of New Yorker cartoons, famous friends, and Thanksgiving ideas, was eager to give the dish its due on her main page.
This is not your average eggs-on-toast
So, what makes an egg sandwich so special that Iron Chef and Food Network star Alex Guarnaschelli posts an Instagram video about it? Well first of all, if you're imagining the kind of hard boiled egg-and-mayonnaise sandwich on white bread that might be a favorite from your local deli... we're going to have to ask you to leave. 
A video from Eater that goes behind the scenes in the kitchen of the famous Jean-Georges restaurant in New York explains that their famous egg toast, like everything else that comes out of their kitchen, is treated with the utmost care and precision. After sourcing fresh Petrossian caviar, Executive Sous Chef Joseph Rhee shows us how tempered, cooked egg yolks are placed carefully between two slices of fresh brioche, made in-house, before being toasted to perfection. Top that little beauty with a spoonful of caviar, some sea salt, and herbs, and you've got what JG himself calls "a 10."
Guarnaschelli liked it so much that she posted her video to her main feed and in her stories, where she added captions like "Sweet baby Jesus," and "Great Odin's Beard!!!!". Users commented on the post with hearts, smiley faces, and fire emojis, saying things like "Holy smokes! That is beautiful!" And even though we thought Guarnaschelli's post was short on information, it's very clear on direction: "This iconic egg & caviar dish is just the best @chefjgv," her caption reads. "Just go there and devour it!"