Instagram Can't Get Enough Of Rachael Ray's Dog At The Pumpkin Patch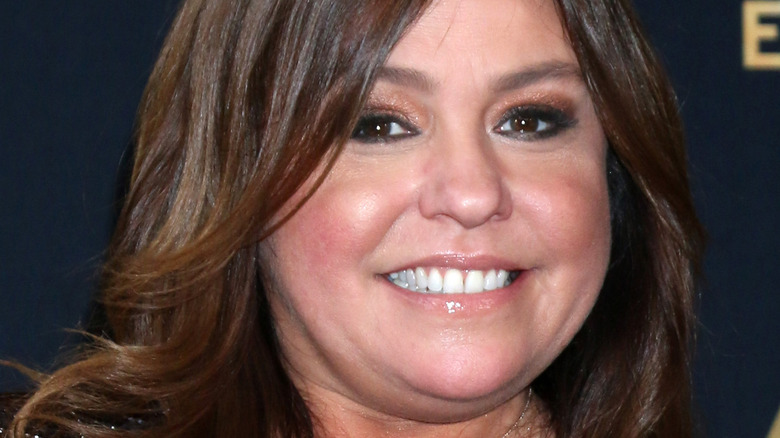 Kathy Hutchins/Shutterstock
If you missed "Take Your Dog To The Pumpkin Patch Day" at work again this year, just relax. Rachael Ray has got you covered – per usual – with her latest Instagram content. The celebrity chef, author, and host of "The Rachael Ray Show" palled around with her pup at the pumpkin patch and posted photos on Instagram so that we could all feel like we were a part of things. A pumpkin-and-pooch-loving nation thanks you, Rachael Ray.
"BBB takes on the pumpkin patch," Ray captions her post, throwing in pumpkin and puppy emojis and a #BellasBigLife hashtag for good measure. Tapping on the hashtag yields more photos of the gorgeous pup, mostly sniffing and stretching her way around Tuscany, where Ray and her husband have a home. But you'd have to go back to June of 2020 to find the moment when "BBB," short for "Bella Boo Blue," became part of the chef's life, according to People. A pit bull with striking eyes and a chocolate coat, Bella arrived after the loss of her previous dog, Isaboo. "We will open our home and our hearts to another animal in need," Ray wrote on Instagram in May of 2020. "Because that is what Izzy would want." True to her word, Ray welcomed Bella into her family just a few weeks later and recently invited her furry companion to that pumpkin patch.
Bella Boo Blue got into the seasonal spirit
A gorgeous dog romping around the simple joys of a sunny pumpkin patch proved to be too much for some people. "All the feels!" one user commented on Instagram Ray's post. "Happy Fall big guy!" Another commenter said, "She's such a beauty!!!" while another posited that Bella Boo Blue might perhaps be of noble lineage. ("She looks very regal!" the user commented, with a crown emoji that would suggest that Rachael Ray's royal status as Queen of 30-Minute Meals might be passed on to her pup?)
Ray is passionate about furry family members, and her pet food company, Rachael Ray Nutrish makes that obvious. As People pointed out last year, the company donated 4 million meals to pets just as the global pandemic was beginning to shut everything down, to ensure that families could keep their pets well-nourished and looked-after during stressful times. I Heart Dogs reported that Ray and her husband adopted Bella Boo Blue from the North Shore Animal League just a few months after that, and brought the pup home to her own special meal: minced chicken and naan, with a spoonful of yogurt. What else would you expect from a chef and dog-lover?