Chef Jernard Wells' New Soul Kitchen Lobster Mac & Cheese Recipe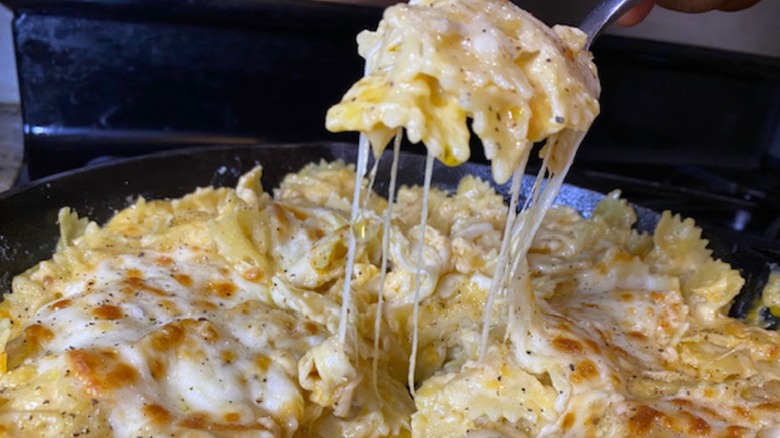 Chef Jernard Wells
Can you think of many dishes that would satisfy the picky palates of kids ... and Bobby Flay and Giada DeLaurentiis? Well, there is one, for sure! According to father of nine and former "Food Network Star" contestant Jernard Wells, whose fourth season of New Soul Kitchen airs October 27 on the Cleo Network, the entree that delights culinary legends and kindergarteners alike is his lobster macaroni and cheese, which has been in his family for generations.
In an exclusive interview with Mashed, Wells explained how this decadent comfort food concoction has become his signature dish. "I think hands down [that] is probably been one of my most requested dishes, all the way to the time of when I did 'Food Network Star.' They had to do this signal with Bobby and Giada that was called, 'A dish to my life. ' That was one of the dishes that I made, and it's because it became my family's and children's staple — because it was my staple," he explained. And Wells' lobster mac & cheese has evolved over generations, he added: "My great-grandparents fixed that dish ... It was something that was standard for us, and that's a go-to dish now in my house ... at least three to four times a month," Wells explained.
So, what's the secret to a mac & cheese with lobster recipe that stands the test of time? Wells said it's both the quality of the cheese and the kick of Southern-influenced seafood. "So, when we talk about mac and cheese, it's always about the bechamel. The bechamel, that creaminess, that cheesiness, making that roux, cooking the butter and the flour, and adding in the cream and the cheese. That's what really brings it together," he explained. "Then of course, me being a Southern boy raised up in Mississippi, and always around seafood, it was common at any given time [to put] shrimp in there ... lobster, crab. It's something!"
Chef Jernard Wells' New Soul Kitchen Lobster Mac & Cheese Recipe
Lobster mac & cheese is anything but a light dish, but its cheesy, creamy, and decadent flavors are exactly why it's a hit with both children and adults alike.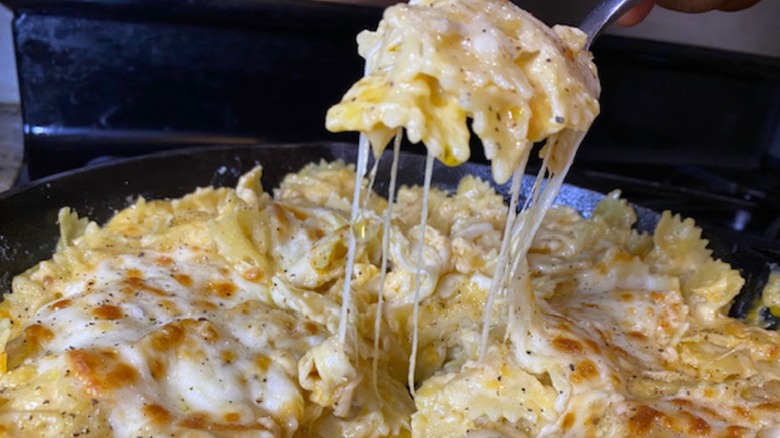 Ingredients
1 (12 ounce) box of bowtie pasta or elbow macaroni
5 tablespoons of butter
¼ cup all-purpose flour
1 teaspoon of smoked paprika
1 teaspoon nutmeg
1 pinch ground black pepper & kosher salt to taste
1 cup of milk
1 cup of heavy cream
14 ounces of Truly Grass Fed Natural Aged Cheddar (diced)
14 ounces of Truly Grass Fed Natural Sharp Cheddar Slices.
3 lobster tails removed from shell and sliced into quarter-size chunks.
Directions
Preheat over to 350.
Bring a large pot of lightly salted water and ½ cup of milk to a boil.
Cook bowtie or elbow macaroni pasta in the boiling water milk mixture, stirring occasionally until cooked through but firm to the bite, 8 minutes. Drain. Note: adding milk to boiling mixture adds a silkiness to the pasta.
Melt butter in a saucepan or large cast iron skillet (preferably oven-proof) over medium heat; add diced lobster tails and cook for 1 minute.
Season with smoked paprika along with a pinch of kosher salt & black pepper.
Stir in flour. Continue to stir until smooth (about four minutes.)
Slowly pour 1 cup of heavy cream and ½ cup of milk into butter-flour mixture while continuously stirring until mixture is smooth and bubbling.
After 3 to 4 minutes, add nutmeg and reduce temperature.
Add diced aged cheddar cheese to mixture, and stir until cheese is melted, 2 to 3 minutes.
Fold pasta into cheese sauce until coated all over.
For extra cheesiness, add slices of sharp cheddar on top and place in pre-heated oven on 350 for 8-10 minutes, until nice and bubbly.
Remove from oven and allow to rest for about 5 minutes before serving.
Nutrition
| | |
| --- | --- |
| Calories per Serving | 1,615 |
| Total Fat | 108.0 g |
| Saturated Fat | 63.0 g |
| Trans Fat | 2.9 g |
| Cholesterol | 468.1 mg |
| | |
| --- | --- |
| Total Carbohydrates | 78.1 g |
| Dietary Fiber | 3.2 g |
| Total Sugars | 7.7 g |
| Sodium | 1,810.4 mg |
| Protein | 81.8 g |