Shoppers Can't Agree On Which Of These Aldi Dilemmas They'd Prefer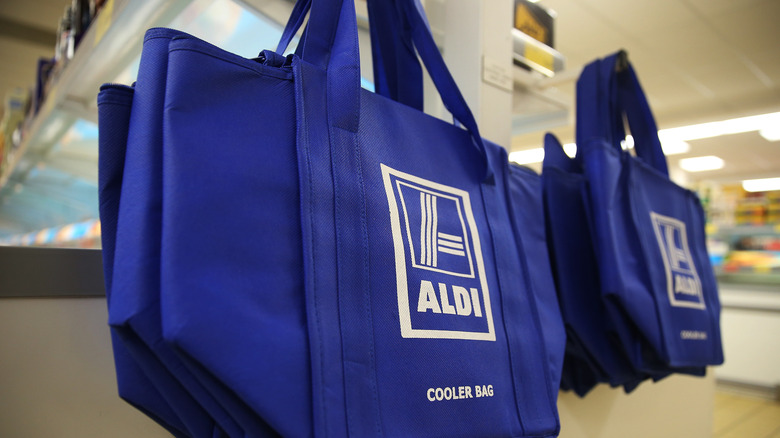 Bloomberg/Getty Images
Aldi fans know there are a few things they can pretty much always count on when doing their grocery shopping: low prices, Aldi's Weekly Finds, and speedy, efficient, no-frills service. Aldi's cashiers are not only known for being fast, they are actually timed on how quickly they can get customers through the check-out line, according to Reddit. One of the ways they bring up their check-out speed is by having customers bag their own items, so Aldi regulars know they need to have their reusable grocery bags at-the-ready when it comes time for the cashiers to ring them up.
Another thing that helps Aldi workers save time, and therefore help their customers save money, is encouraging shoppers to put their own carts back after use by requiring a quarter deposit to release a carriage from the corral. Once the cart is returned to its proper place, customers will get their quarter back (via Aldi). So all Aldi regulars know they need to bring a reusable shopping bag and a quarter with them in order to have a successful shopping experience.
Aldi shoppers can't decide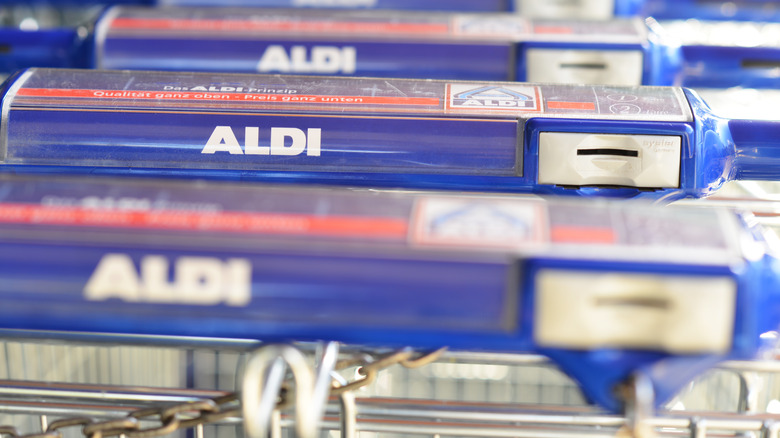 nitpicker/Shutterstock
However, one curious Aldi fan on Instagram decided to get fellow shoppers' heart rates rising with a mischievous game of Would You Rather. "Would you rather: Forget your quarter? Forget a bag?" @aldiusa posted to the social media site, sparking some opinionated responses in the comments. "The bags! I've forgotten my quarter before, but people were kind enough to lend," replied @ericajovi. Quite a few people agreed. User @Juststartagain_8043 joked, "Bag ... gives me a reason to buy myself a new Aldi bag." However, not everyone was on the same page. Others firmly landed on the other side of the argument, saying they'd rather have their bags than a quarter in hand. "Quarter! Because someone nice always leaves a cart," @inkedandinspiredaf wrote. "Forget a quarter. Because if I do, you guys will usually lend me one," another user agreed.
In addition to the friendly debate, some commenters also chimed in with helpful ways to ensure no Aldi shoppers have to endure the pain of forgetting either of these two items ever again. "Thanks to my Aldi quarter holder keychain, I no longer forget my quarter. And the styles r so cute!" @sharebearr22 suggested. So while a consensus might never be reached on this Would You Rather debate, it seems everyone can agree that it's best to have both bags and quarters on hand when they shop at their local Aldi.