How Much It Pays To Be An Heir To Truett Cathy's Chick-Fil-A Fortune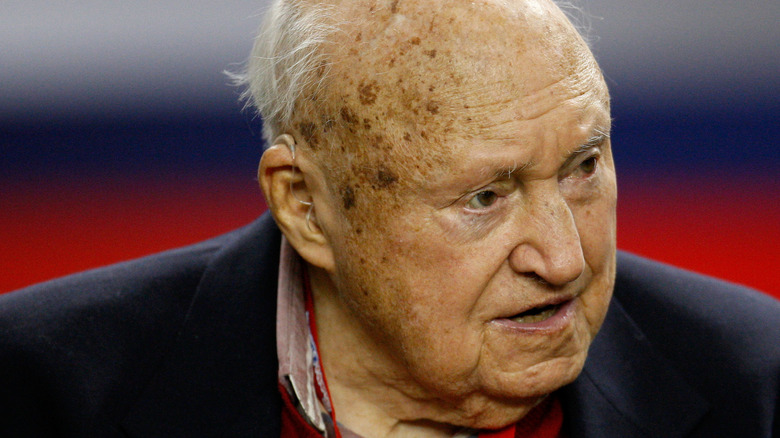 Mike Zarrilli/Getty Images
When Forbes publishes its annual report of the wealthiest people in the United States, the listees are always overwhelmingly male. This year's Forbes 400 is no different, with women making up just 14% of the names of America's financial elite, says Forbes. That's 56 women in total — but only one of them is heir to a fast food chicken throne. Trudy Cathy White, daughter of S. Truett Cathy (the late founder of every cow's favorite restaurant chain, Chick-fil-A), has finally joined the ranks of Forbes' wealthiest women. She's just a few years shy of her two brothers, who have been on the list since 2015.
It's not that White has only suddenly come into some money. Each of Cathy's three children has ⅓ of the family's stake in Chick-fil-A — a $4.3 billion company as of 2020 — and have all been involved in the restaurant since they were young. White herself was the youngest-ever head of a Chick-fil-A restaurant at age 19, when she took a year off of school to operate the company's Birmingham, Alabama location. But it was only this year that Forbes found the documentation to prove that her personal fortune is estimated to be $5.5 billion. In 2021, that amount of money earns you the 200th place on Forbes' list of high-fliers. Though, like any good sibling, you do have to share the spot with your brothers; Bubba and Dan Cathy are right there above White, with a cool $5.5 billion each.
Chicken dynasties pay dividends
Mark Van Scyoc/Shutterstock
Though Chick-fil-A has seen its share of controversies over the years, the chain is still going strong, serving chicken and waffle fries in more than 2,400 locations across America, according to its website. And, as Business Insider reports, the restaurant is still very much a family affair that has no intention of going public. The Cathy family has been working together for more than 70 years now, with 12 of the late founder's grandchildren employed by the restaurant chain. "People speak of the Cathys as if they were local royalty," Kim Severson wrote about the chicken sandwich empire in The New York Times in 2012. "The company logo is as much a part of the Atlanta cityscape as Coca-Cola's."
You don't get that far as a company without making some major moolah along the way. Business Insider claims that the Cathys are "America's 21st-richest family 'dynasty,'" with Truett's son Dan serving as chairman and CEO of Chick-fil-A, and Don (aka "Bubba") holding a number of positions within the company over the years, including executive vice president. Truett's only daughter, Trudy Cathy White, has taken less of an active role in the restaurant industry; she serves as an ambassador for Chick-fil-A but has focused more on writing books, founding non-profits, and going on mission trips than frying chicken, according to Forbes. Regardless of their roles, none of the Cathy kids is hurting for cash these days, according to this year's Forbes 400.