The Real Reason Patagonia Launched Its Own Line Of Wine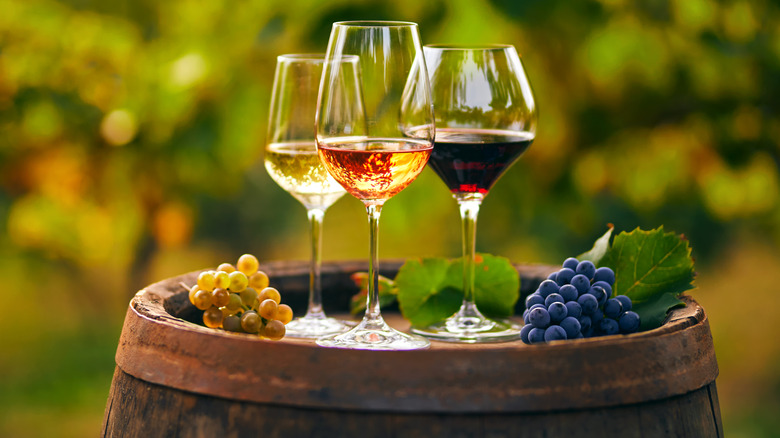 Rostislav_Sedlacek/Shutterstock
Patagonia is your go-to destination for warm jackets, athletic tees, and ... wine? The outdoor apparel company is perhaps best known for its cozy fleeces, parkas, and insulated down jackets, but that may be about to change. The brand has revealed the newest additions to its list of products: natural wines, ciders, and sake. Eight wines, which include a Meinklang Rosé for $25, a French Château de Béru Chablis for $48, and a Wild Arc Marquette from New York's Hudson Valley for $30, are already available through the Patagonia Provisions website. 
A new traditional organic rice sake and a dry hard Alai Sidra cider from the Chilean Andes are scheduled to be released in late November, according to Food & Wine. And while it might seem like a bit of a strange move for an outdoor company to venture into the wine business, the brand sought to assure any potential doubters that it might not be as unusual as it initially seems. According to Patagonia, the decision to begin collaborating with growers, winemakers, and artisans to start selling wine was all about pursuing a "connection to place."
Patagonia's wines are meant to create a special connection
Will Howe/Shutterstock
"Nothing captures the natural setting of a given location — the soil, weather, flora, and fauna — like hand-crafted, thoughtfully produced wine, cider, and sake. The French call it terroir, but we just think of it as the taste, aroma, and beyond that, the spirit of some of the best places on earth" Patagonia explained in a statement on its website. The idea is for consumers to experience "a delicious, unexpected flavor and a tangible connection to the place and person who made it." 
All Patagonia wines are natural, meaning every step in the production process, from fermentation and aging to bottling, is completed with as little intervention as possible. Sulfites are kept to a minimum, and filtration is absent from the equation. Patagonia wines are also made with the intent to "inspire greater emphasis on responsible growing and natural fermentation across the wine industry." 
Patagonia's wines are currently available for purchase in 13 states, including Alaska, California, Florida, and Wyoming, as well as Washington, D.C. (via Food & Wine). So if you are a resident of one of these places and are curious to see if Patagonia's natural wines are as good as its outdoor gear, then now is the perfect time to give them a try for yourself.