The Big Promise Tyson Is Making Its Unvaccinated Employees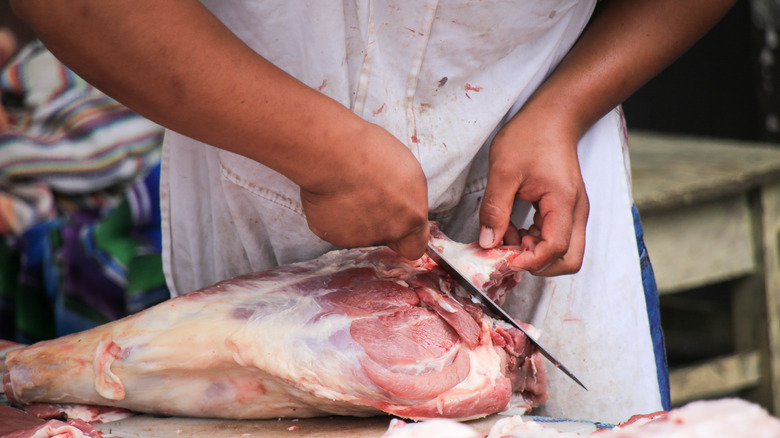 Hayden Dunsel/Shutterstock
Vaccine mandates may be causing people to walk off their jobs and out on the streets to protest, but it could also be saving lives at Tyson Foods, where 96 percent of workers are reportedly vaccinated against COVID-19. The percentage is a big deal for the company, because it has been dealing with worker shortages and was prepared to fire those who hadn't been vaccinated before a company-imposed deadline of November 1, 2021 (via ABC News).
In an email to Tyson employees, the company's President and CEO Donnie King called the vaccination rate an "incredible result," adding a note to those who are still deciding whether to get a shot: "[T]his is your choice, and we respect that choice. If you change your mind and want to rejoin Tyson — let us know. Our doors are open." The company's spokesman said Tyson Foods has seen few resignations because of the mandates and saw a big drop in coronavirus cases as its vaccination program went underway. 
Of America's meatpacking giants, only Tyson Foods requires its workers to get vaccinated, but they're offering a pretty nice incentive: 20 hours of paid sick leave. Elsewhere, ABC News said that Cargill, JBS, and Smithfield Foods are only "encouraging" their workers to get protected against COVID but did not say how.
An unsafe industry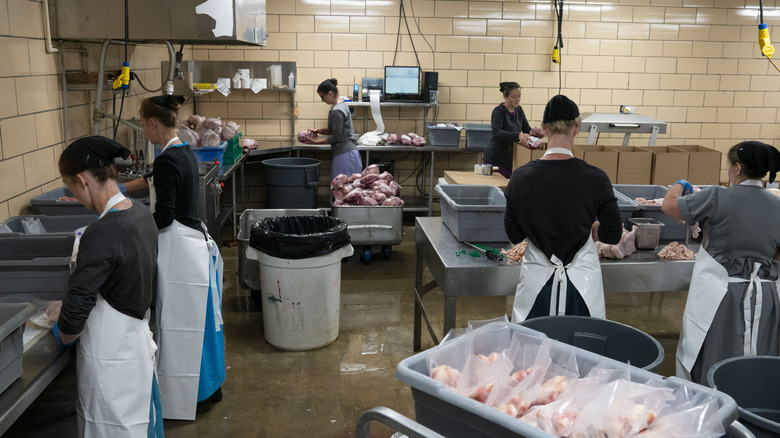 Bloomberg/Getty Images
The speed at which COVID-19 crippled the meat processing industry didn't surprise Saint Louis University law professor Ruqaiijah Yearby, who pointed out that the industry is not exactly progressive when it came to workers' rights. In a piece for The Conversation, Yearby wrote: "Meat- and poultry-processing companies' standard attendance policies were punitive even before the pandemic. Companies issued points for employees who missed work and fired those who accumulated too many points." He called out Tyson Foods and JBS for requiring their workers to report for duty even if they had COVID symptoms or were waiting for test results. These conditions, coupled with the proximity that workers at these facilities found themselves in, made it possible for the virus to spread.
Separately, ProPublica revealed it had seen documentation outlining how COVID outbreaks at meatpacking plants overwhelmed public health agencies at the local level during the first months of the pandemic. It should come as no surprise then that by December of 2020, Yearby wrote that between six to eight percent of COVID cases and three to four percent of COVID deaths could be traced back to meat processing plants.
Now unions are urging companies to take the final step to protect their people. "We urge every company, across this country, to do what is right by their frontline workers and work cooperatively with their unions and employees to help end this pandemic and keep all of America's essential workers and their families safe," United Food and Commercial Workers Union President Marc Perrone said (via ABC News).