Producers Tell All About Snoop And Martha's Very Tasty Halloween - Exclusive Interview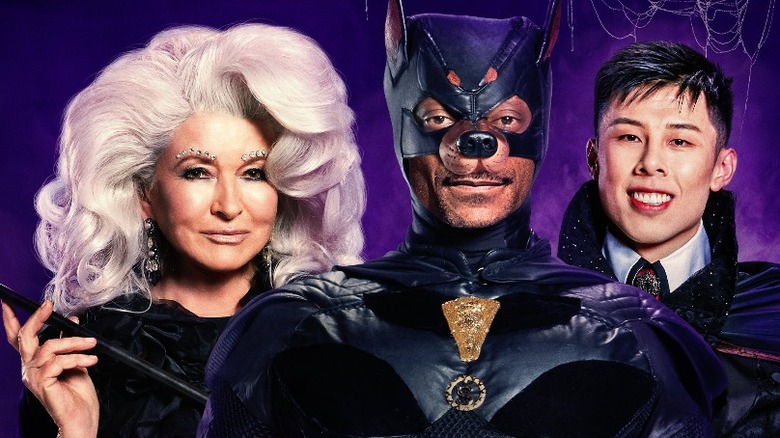 Peacock
With Halloween just days away, chances are fans of the holiday are watching spooky shows and movies. That includes bakers who've likely tuned into baking competitions fit for All Hallow's Eve. But there's one new baking show that everyone should queue up, and that's "Snoop and Martha's Very Tasty Halloween" on MSNBC's Peacock streaming service. No one loves throws a party quite like Snoop Dog, after all. And no one loves Halloween more or knows baking better than Martha Stewart. 
Created and presented by BuzzFeed Studios, Magical Elves and the minds of Tasty, the world's largest digital food network, "Snoop and Martha's Very Tasty Halloween" is a competition special hosted by Snoop Dogg and Martha Stewart, featuring talented bakers who face off in a delectable Halloween showdown. But this special is a challenge of a new scale. Joined by Tasty's Alvin Zhou, the bakers create entire walk-through displays with an array of edible surprises and treats that the judges and party guests alike could experience. But to really get inside the Halloween special and the baker's creations, Jo Sharon and Casey Kriley, the co-CEOs of Magical Elves and Executive Producers for "Snoop and Martha's Very Tasty Halloween" special, spoke with Mashed.
Jo Sharon and Casey Kriley on creating the spooky special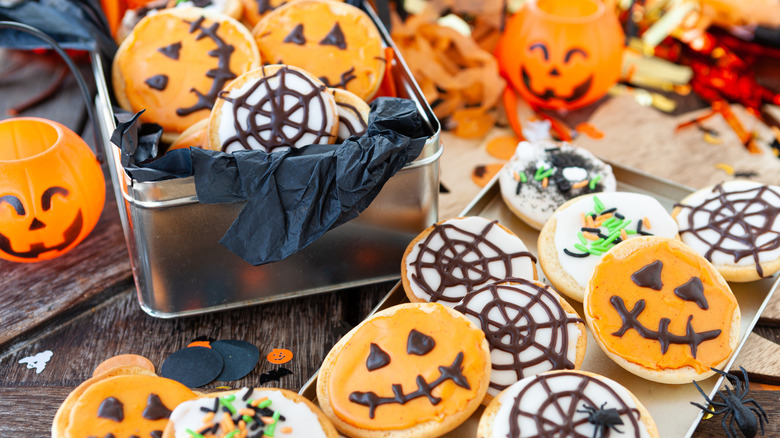 Bildagentur Zoonar GmbH/Shutterstock
Tell us a little bit about Snoop and Martha's Very Tasty Halloween.
Jo Sharon: Well, three different teams of three come to Tasty Manor to help throw a manner for mystery hosts. Each team had to create 12x12 backdrops that party guests could experience and taste. They had 72 hours to come up with the idea based on the theme of fear.
Why did you make the choice to conceal the judges' identities from the bakers?
Casey Kriley: The Snoop and Martha reveal heightened the pressure for everybody. Snoop and Martha are legends in their own right and we were just as excited to work with them as contestants were. It was a great way to build excitement for everyone. For Martha, Halloween is one of her favorite holidays, and Snoop was a fish out of water in the baking world.
What about the costumes. How were they selected and what was the best part of dressing up the judges?
Casey Kriley: They chose their costumes. They all came with their own costumes, and "Snooper Dog" was amazing. Martha was stunning she had so much fun she had these crazy icy blue contacts she put in. She looked like a goth queen.
Casey and Jo on Snoop and Martha's relationship and the bakers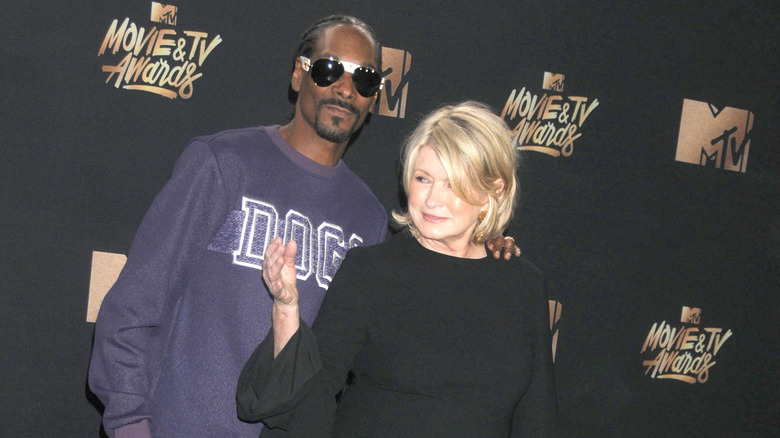 Featureflash Photo Agency/Shutterstock
What's the relationship like between Martha and Snoop?
Casey Kriley: For me, seeing Martha and Snoop's authentic and real relationship in real life, they are obviously friends on- and off-camera. It's been some time since we've worked with them, and you could see that their relationship has evolved even during that time away. It's really heartwarming. They really care and know each other and love to hang out together. But, the tricky or scary part was bringing in this third person, Alvin Zhou, that doesn't already have a relationship with Snoop and Martha. But they all had fast and quick chemistry. Snoop and Martha gelled together with Alvin. It was dynamic between the three in off-camera moments.
Clue us in to the sheer scale of this competition with bakers making hundreds of treats.
Jo Sharon: In partners with Tasty, food has to be the star. We had to make sure the food was spectacular. And we wanted to make sure we were doing something fresh and unique. No one had done anything with that scope and scale, so we used that as a jumping-off point. We had to figure out how do we do something that big. So, we gave more time by allowing the teams to prep a week ahead of time.
Casey Kriley: The scale and scope and the timeline and really pulling it both as producers and for the bakers pulling it off in that short period of time was tough, but we did it and it worked.
The one-hour baking competition special, "Snoop and Martha's Very Tasty Halloween," is now available to stream on Peacock.