The Worst Burger At Red Robin According To Over 24% Of People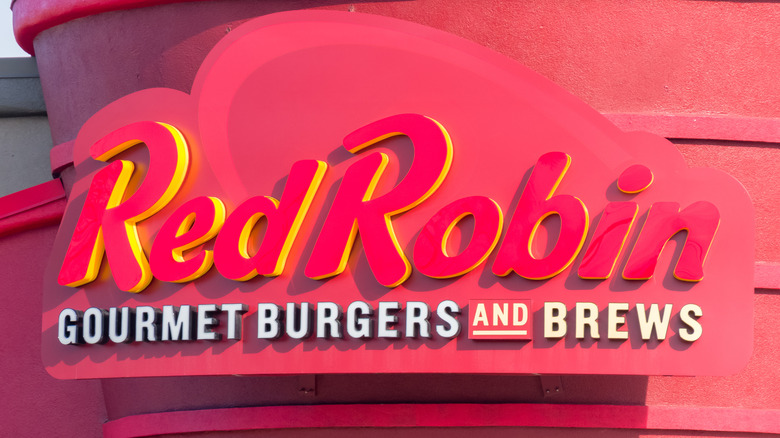 Ken Wolter/Shutterstock
Red Robin has always put the emphasis on burgers (technically, "gourmet burgers and brews" as their signage states), ever since opening their doors in 1969. Today, the casual dining restaurant serves customers at 525 locations across the U.S. and Canada, per Red Robin's site. And the restaurant chain has had a successful track record doing so, with a revenue of $272.2 million in the second quarter of 2021 alone, according to the official website. 
So, their signature food must be pretty good if that many people are eating here on a regular basis. But, we at Mashed wondered which burger in particular on the menu customers might deem the worst one to order. To figure out the general consensus, Mashed polled 599 U.S.-based readers and provided seven picks to choose from, including more under the radar picks and some perennially popular burgers — and the results surprised even us.
The Banzai Burger is not everyone's favorite at Red Robin
As it turns out, the least liked burger at Red Robin, according to our survey results, is also considered one of the chain's signature items and one that the brand calls a "house fave" on its website. In fact, it's the Banzai Burger that 24.54% of respondents chose as the worst pick on the menu. Comprised of a "teriyaki-glazed patty, grilled pineapple, cheddar, lettuce, tomatoes, and mayo," it sounds like a pretty tempting meal. Even Red Robin server Stephanie Woolf told Quora that the Banzai is among the most popular burger orders she gets. But apparently Mashed readers have some discerning tastes.
Coming in second place for the worst Red Robin Burger is the Sautéed 'Shroom Burger, which 18.7% of people chose as their least favorite pick — then again not everyone loves mushrooms. In third place is the Black & Bleu Burger with 17.2% share of the votes — even the tasty blue cheese crumbles couldn't save it from being a strong contender. In fourth place is another one that server Stephanie Woolf delivers to "at least every other table" when she's working on the floor and is also identified as a "house fave" on Red Robin's site. That is the Whiskey River BBQ Burger, which 15.36% of respondents chose as the worst burger in the survey. And in fifth place is the Smoke & Pepper Burger — 11.69% of voters apparently don't like the bit of flavor kick it offers.
Rounding out the poll — the two burgers that respondents seemed to enjoy (since they're at the bottom of the "worst" picks) are really pretty basic. In 6th place with 7.18% of the vote is the Royal Red Robin Burger topped with bacon and an egg. And in last place — meaning it's most preferred — is the basic Gourmet Cheeseburger, which only 5.34% of people named the worst. Sometimes simpler just tastes better.