Mila Kunis Chose An Unusual Drink To Help Quell The Spiciness On Hot Ones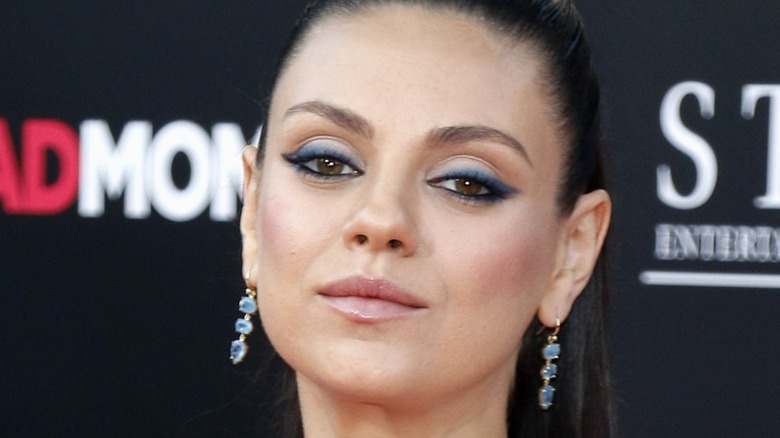 Tinseltown/Shutterstock
If you ever want to see your favorite celebrities get taken down by some extremely hot food, "Hot Ones" has your name all over it. Standout episodes — like the ones featuring Gordon Ramsay and Terry Crews — feature the stars facing off with spice-induced pain after taking on some incredibly hot wings and deserve a view, per Next Luxury. When Mila Kunis made her appearance on the show, she debunked a slew of white lies her husband, Ashton Kutcher, told about throwing away his collection of trucker hats, according to PopSugar.
In addition to recounting personal stories, Kunis decided to combat the spice of the wings with a truly uncanny drink (via ET Canada). In the YouTube video, Kunis first reaches for a glass of milk, but then goes straight to a cup of dressing. The occasion allegedly marked the first time a celebrity tried to drink the particular dressing on the show and it backfired in the star's face. Upon sipping it, Kunis recoiled and immediately went back to the glass of milk.
The actress decided to drink ranch dressing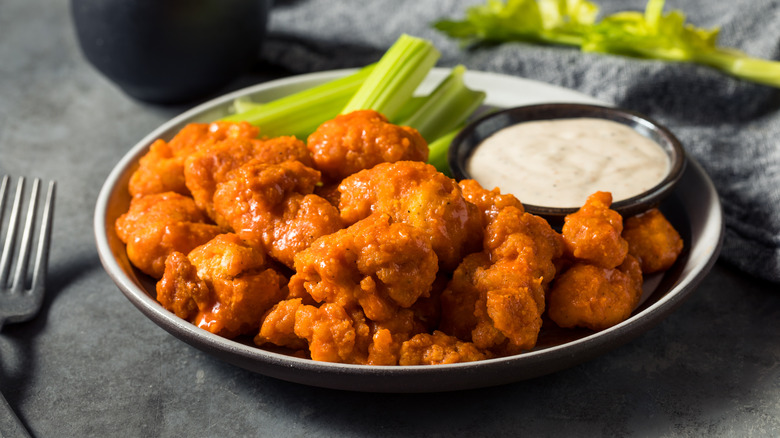 Brent Hofacker/Shutterstock
Mila Kunis' decision to reach for the ranch generally makes sense. According to Chapman University, ranch dressing contains casein, a substance that binds to the heat-inducing capsaicin found in peppers. The two substances combine and wash away the heat, not unlike soap washing away grease. This spice-fighting action makes the dressing an ideal wing pair and justifies Kunis' decision to drink it straight from the container.
Next time you need to cut some spice, take a nod from Kunis and her decision to drink ranch dressing to curb the heat from her hot wings. Just make sure to avoid straight-up drinking the condiment and learn from the star's mistake. While the decision didn't work as intended, hopefully, this condiment can combat more mild hot sauces and work in a pinch when needed. With any luck, you might even see more celebrities reach for this dressing as a beverage on future episodes of "Hot Ones."