Instagram Is Seriously Impressed With Geoffrey Zakarian's Core Workout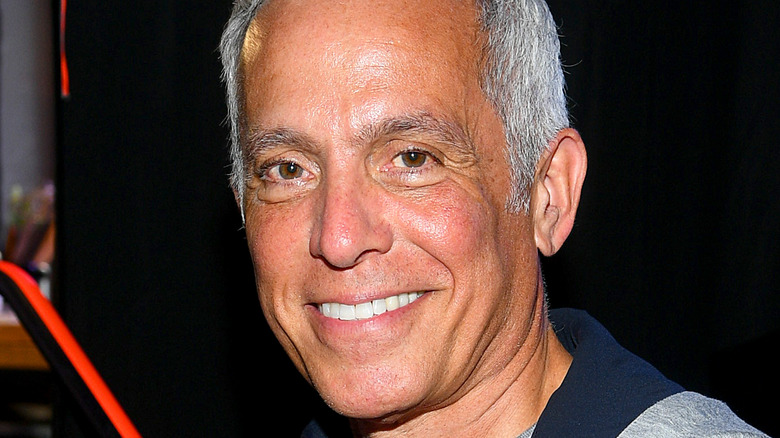 Dave Kotinsky/Getty Images
As a celebrity chef, Geoffrey Zakarian ensures that he sets a good example for his fans by prioritizing his health and fitness. According to Rhone, the chef exercises often and makes it a regular part of his schedule. He once said that he would have made exercise a priority even if he wasn't in the food business. He said, "I work out five days a week and try to do something different every day. When I travel, I typically do more bodyweight and band workouts."
Turning to different activities is especially a good tip because it helps prevent boredom. Also, his go-to meal is a healthy treat: Roast chicken with vegetables and a wholesome green salad (via Rhone). Per Food Network, Zakarian also enjoys doing pilates. It helped him overcome back pain. The chef explained, "Pilates has given me remarkable flexibility, core strength and an overall feeling of invincibility!"
On social media, Zakarian has often shared glimpses from his workouts, delighting his fans with his updates. In one of his most Instagram posts, he's seen demonstrating how he works out his core.
Geoffrey Zakarian's ab routine is definitely impressive
Geoffrey Zakarian took to Instagram recently to share his core exercise tip with his fans. He even posted a helpful video clip where he was seen working out with an abdominal roller to strengthen his core. Zakarian said that he focuses on his core every single day when he works out. "This stabilized roller helps to take the pressure off your wrists and focus on your core," he wrote. 
The chef also mentioned that it's a very portable device and is always with him whenever he's traveling. A fan joked that they couldn't make up their mind about whether they respect the chef or are envious of his impressive fitness levels. Another commentator said, "love it... thank you for sharing. Didn't know about this gadget." Another fan added that they're sure that it's not an easy exercise to pull off. They complimented Zakarian and wrote, "You're amazing."