This Big Change Is Coming To Aldi's Wooden Toy Packaging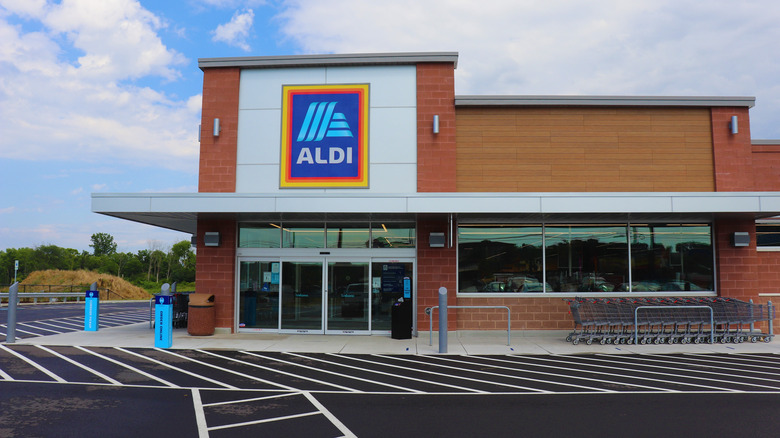 Alejandro Guzmani/Shutterstock
As a popular supermarket chain, Aldi is keen to embrace sustainability and do its bit for the environment. In March this year, the company came up with a new sustainability charter to reduce greenhouse gas emissions, lower food waste, rework its packaging options, and stick to responsible sourcing for all its products (via Supermarket News). "We are committed to evaluating and implementing sustainable business practices while always offering the highest-quality products at prices that can't be beat," Aldi U.S. CEO Jason Hart stated.
Well, the company is taking its environmental goals rather seriously and has made a new announcement on this front. According to Packaging Gateway, the retail company is introducing a huge change to its popular wooden toys this year. The toys that were launched in 2016 currently have 93% recyclable packaging, but Aldi is taking things a step further and making its products even better for the environment.
Aldi is saying no to plastic
Per Packaging Gateway, Aldi has decided to completely remove plastic packaging for its wooden toys. The supermarket chain is now using paper tape instead of the more conventional option that's made of plastic, and is also using paper wrap to eliminate bubble wrap. Customers can also choose to buy huge soft toys that are being sold in eco-friendly packaging (sans plastic) and eco plush toys that have been created with recycled polyester.
This change is currently applicable to Aldi's outlets in the U.K. "In 2018, we pledged that all our packaging would be recyclable, compostable or reusable by the end of next year, so we're continually reviewing all of our product ranges to remove unnecessary packaging," the company's plastic and packaging director for the U.K., Richard Gorman, said. He added that minor changes will eventually help the company reach its goal. Aldi is looking at significantly bringing down its plastic packaging volume and cutting it to 50% by 2025.