Jet-Puffed Just Dropped A Sweet And Savory S'more Sandwich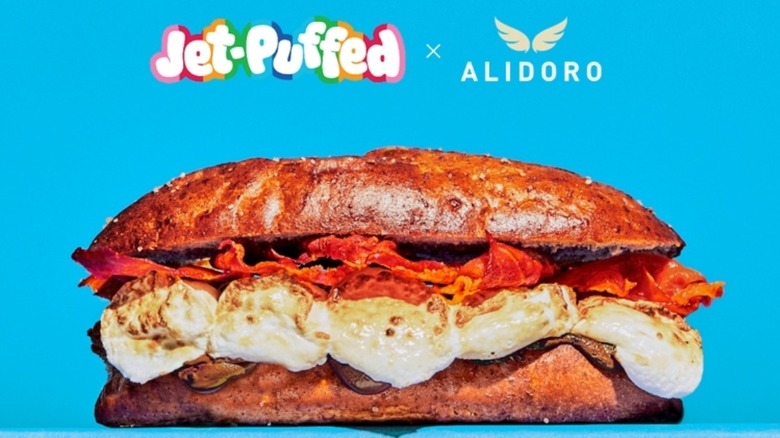 Jet-Puffed
There have been many debates over what constitutes a sandwich over the years. While some might buy into the idea that anything between two pieces of bread is a sandwich — including hot dogs and hamburgers — others are not so convinced. But in a recent poll that Jet-Puffed brand marshmallows took on Twitter, the majority of people said that s'mores are sandwiches (via Business Wire). All of this was to help Jet-Puffed celebrate National Sandwich Day on November 3, with their latest creation, a S'moagie.
Together with specialty sandwich shop, Alidoro, in New York City, the S'moagie was created. Crafted after the quintessential s'more, the Jef-Puffed S'moagie is made with some creative ingredients. The artisan sandwich is made with a graham cracker-infused hoagie roll, a warm and toasty layer of Jef-Puffed marshmallows in the middle, dark chocolate spread with a sprinkle of sea salt on the bottom, and a crisp layer of brown sugar-glazed prosciutto for the top layer. It's a sweet and savory creation few people will be able to resist.
This is how you can get your own Jet-Puffed S'moagie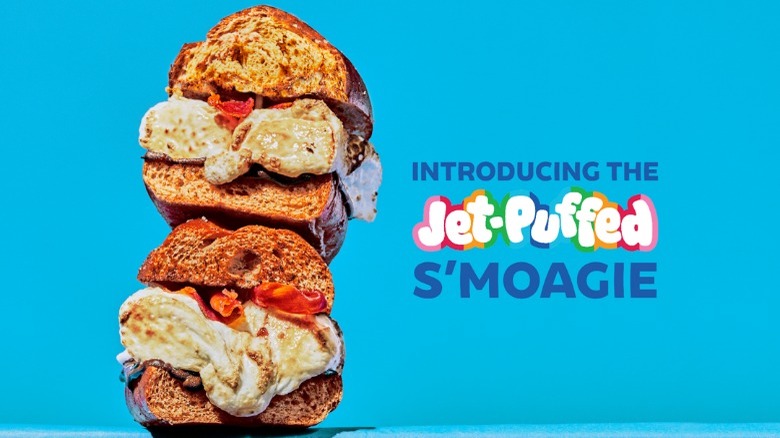 Jet-Puffed
Of course, this amazing new sandwich will not be available just anywhere on November 3 (via Business Wire). Those lucky enough to be near Alidoro shops in New York City's Rockefeller Center and Bryant Park can get the limited-time Jet-Puffed S'moagie for $10. But those who can't get to those two locations have an alternative option too. For a limited time while supplies last, the Jet-Puffed S'moagie will be available as a sandwich kit through Goldbelly. Fans that want to try the new creation can log onto the website and place their order. Then, it's just a matter of waiting for the shipment to arrive at your door.
"Here at JET-PUFFED, we maintain that a s'more is a sandwich," said Allison Kelly, associate director of marketing for Jet-Puffed. "To make this an indisputable fact, we're launching the JET-PUFFED S'moagie with the ultimate sandwich creators at Alidoro, to develop a s'more that can be enjoyed like a traditional sandwich without question." Clearly, the brand is going to great lengths to prove that point. But only time will tell if fans agree and love the new sweet and salty creation.