Instagram Is Loving Giada De Laurentiis' Halloween Costume Pic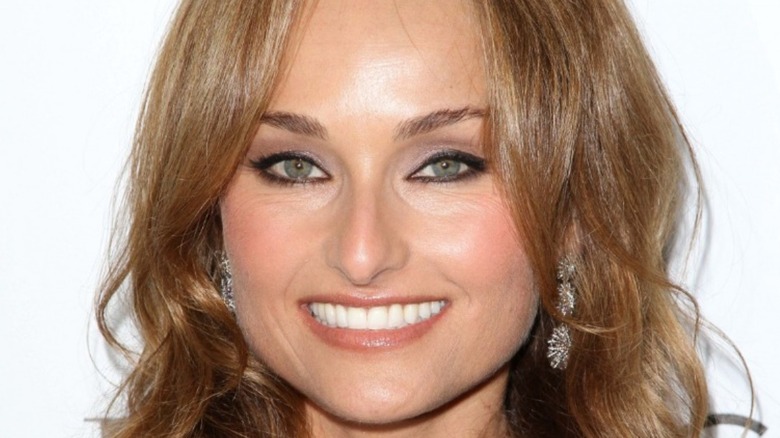 s_bukley/Shutterstock
While all of the spooky treats, baking competitions, and trick-or-treating are fun parts of Halloween, few things might be as exciting as getting dressed up and seeing what everyone else decided to be for October 31. This year, there were tons of great celebrity costumes: Harry Styles dressed up Dorothy from "The Wizard of Oz," Lizzo went as Baby Yoda, and John Legend and Chrissy Teigen dressed up as "The Addams Family" (via CNN). But one of Food Network's biggest celebrity chefs kept things comfy and cozy this year.
Giada De Laurentiis donned an adorable, button-up green alligator onesie with a hood. She took a photo with her daughter, Jade, and posted it to her Instagram account. De Laurentiis finished the look with green eyeshadow, red lipstick, and bare feet for a relaxed night at home, it would appear. Her post received more than 55,000 likes in less than a day, so it's easy to see just how much fans loved her Halloween look.
This is what fans said about the photo
While some fans wished the famous chef a happy Halloween and told her the photo was "so beautiful," most fans just couldn't get over how much Jade has grown up. One fan said, "​​Holy crap! Your little girl is growing up!! Happy Halloween." Another wrote, "Look at Jade!!! Omg she's all grown up and beautiful just like Mom." Someone else said, "Jade is your twin."
Then there were all of the responses from fans that just couldn't believe how tall Jade has gotten. One person simply said, "she's so tall!" Another fan commented, "Geeze!!! When did your daughter get so tall??" However, it's worth noting that Jade was wearing platform-heeled boots that would have added quite a bit of height. While De Laurentiis' daughter is growing up, she is still only 13 years old, according to Cheat Sheet. Regardless, fans loved seeing the mother-daughter duo sporting their costumes and looking as though they were having a great time.