Dunkin's 2021 Holiday Menu Features 2 Decadent New Drinks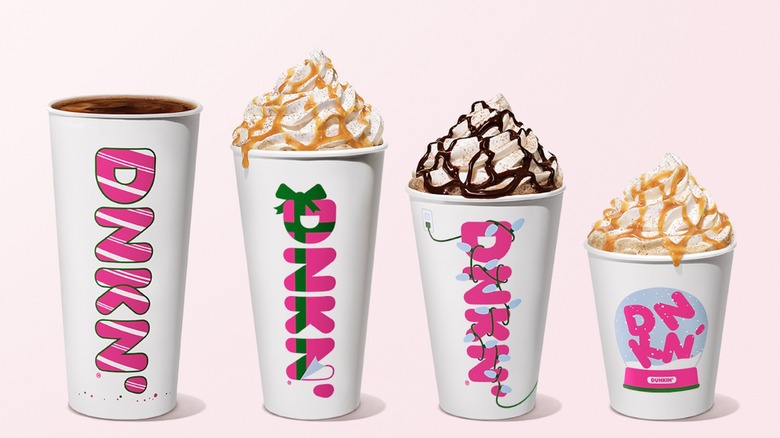 Dunkin Donuts
Halloween has finally passed, meaning that now quick-service restaurants everywhere will skip over Thanksgiving to ring in holiday cheer. Or, at least, Dunkin' will. In a press release sent to Mashed and available on PR Newswire, Dunkin' explained that, as of November 3, the holiday menu will be available.
This means that the Peppermint Mocha Signature Latte with its mixture of peppermint, whipped cream, chocolate, and drizzled mocha will return. Perhaps more exciting, though, is the extra news that Dunkin' will introduce both a new mocha and a new signature latte. The new Toasted White Chocolate Signature Latte will feature a white chocolate syrup with cinnamon sugar, caramel drizzle, and of course, whipped cream. The new White Mocha Hot Chocolate blends mocha and white chocolate into the wintry classic drink.
A less decadent, but still new drink to also appear on Dunkin's holiday menu is the Holiday Blend Coffee, which consists of Ethiopian and Colombian coffees. Between November 3 and December 1, you can buy the new limited batch coffee for $2. Additionally, Dunkin' Midnight is now offered in packaged coffee and coffee pod form. So now you don't even need to leave the home to run on Dunkin'.
Dunkin' is offering food as well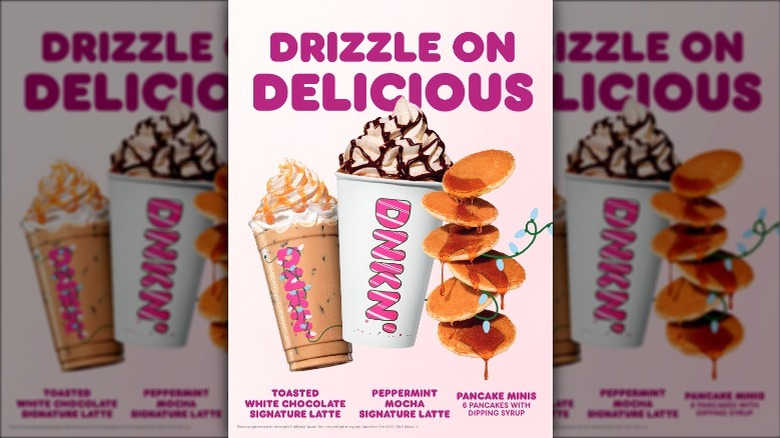 Dunkin
The decadent highlights of Dunkin's holiday menu are the new drinks. However, Dunkin' has paid some attention to their food offerings as well. The newest introduction here are mini pancakes, which admittedly lack the panache of a multi-worded name. Still, you get six and they are filled with maple flavored bits. Then there is the Cranberry Orange Muffin, which Dunkin' proclaims is made from real cranberries and topped with sugar. (The nature of the orange remains uncertain.) The returning selection is entirely filled by the Chicken, Bacon & Cheese Croissant Stuffers, which are stuffed croissants.
The lopsided emphasis on drinks makes sense, however. As a 2013 article by Forbes indicates, Dunkin' has long considered itself a "beverage company." The food options are there to round out the drinks, but they are not the intended vehicles of decadence. 
More importantly, though, Dunkin' has deemed the month of November as a donation period. For every $1 donated via the Dunkin' app to the Dunkin' Joy in Childhood Foundation, you will receive $1 off for a dozen donuts. The Dunkin' Joy in Childhood Foundation primarily targets childhood hunger, bringing dogs to children's hospitals, and providing proms to hospitalized teens.