Read This If You Recently Bought Salad From Walmart Or Kroger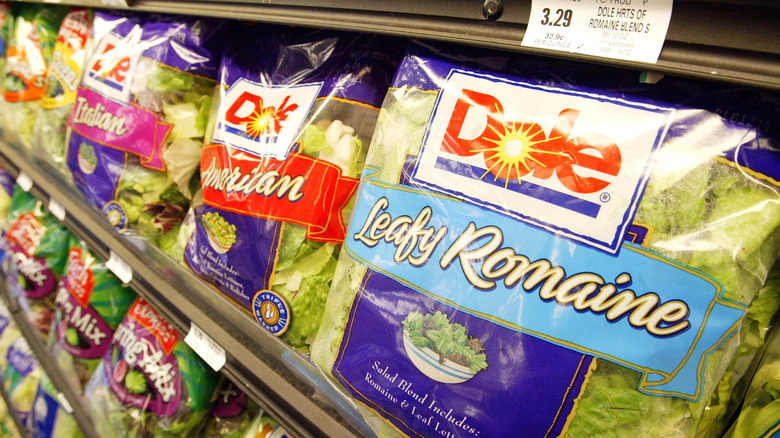 Justin Sullivan/Getty Images
Shoppers who have recently purchased Dole Fresh Vegetables brand of garden salad from Walmart or Kroger should toss the products rather than eating them. A random sample of the brand's bagged garden salad collected by the Department of Agriculture in Georgia recently tested positive for the organism Listeria monocytogenes, so Dole Fresh Vegetables Inc. is voluntarily recalling several cases of pre-packaged salad over fears of potential contamination, according to Food Safety News.
The recalled products are the 24-ounce Dole Garden Salad with the UPC code 0-71430-01136-2, the 24-ounce Marketside Classic Salad with UPC code 6-81131-32895-1, the 12-ounce Kroger Brand Garden Salad with UPC code 0-11110-91036-3, and the 12-ounce Salad Classics Garden Salad with the UPC code 6-88267-18443-7. They also bear lot codes N28205A, N28205B, N28211A, and N28211B in the upper right corner of the bags. These potentially contaminated salads were sold at Walmart and Kroger stores in 10 states: Alabama, Florida, Georgia, Louisiana, Massachusetts, Maryland, North Carolina, Pennsylvania, South Carolina, and Virginia.
Listeria monocytogenes can cause serious illness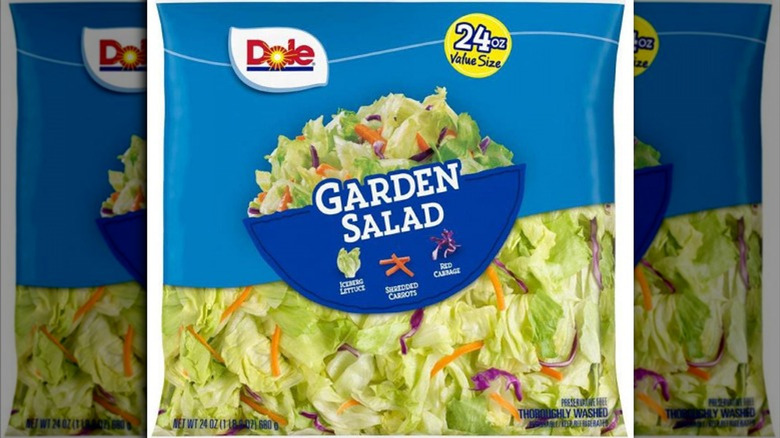 Dole
Dole Fresh Vegetables Inc. has coordinated with regulatory officials to voluntarily pull any potentially contaminated products from store shelves. According to the FDA, the potentially contaminated products all have a "Best If Used By" date of October 25, 2021, and so should no longer be sold at any retailers. However, any consumer who has previously purchased a bagged garden salad with these product descriptions should discard them immediately. 
Listeria monocytogenes is an organism that can cause serious infection as well as miscarriages and stillbirths in pregnant women, and may even be fatal for young children, the elderly, and the immunocompromised, per the FDA. Otherwise healthy individuals who come into contact with Listeria monocytogenes may experience fever, headache, stiffness, nausea, abdominal pain, and diarrhea. To date, no illnesses have been reported in connection with the recalled products. Anyone with any concerns over the recent recall can call the Dole Consumer Center at 1-800-356-3111 twenty-four hours a day with questions or concerns.