This Meal Got J.D. Salinger To Leave His House Every Week
Famed novelist J.D. Salinger is perhaps best known for two things: "The Catcher in the Rye" and being a recluse. Born in New York City, Salinger was a mediocre student in his youth. He graduated from Valley Forge Military Academy in Wayne, Pennsylvania, and bounced somewhat aimlessly around a few different institutes of higher education, including New York University and Ursinus College. However, it wasn't until he began taking night classes at Columbia University and met Professor Whit Burnett that he really began to devote himself to writing, according to Biography. Professor Burnett recognized Salinger's talent and encouraged him to write. Yet, before his writing career could really take off, World War II began, and Salinger was drafted to serve in the U.S. Army.
He returned from serving overseas in 1946 and resumed writing in New York. In 1951, Salinger published his first novel, "The Catcher in the Rye." However, just two years after the publication of his most famous novel, Salinger drew away from public life, leaving New York City to settle in a quiet, secluded home in Cornish, New Hampshire. He grew increasingly more private, avoiding making public statements or appearances. By 1980, he had completely stopped giving interviews entirely, according to Time.
Salinger went out for all-you-can-eat roast beef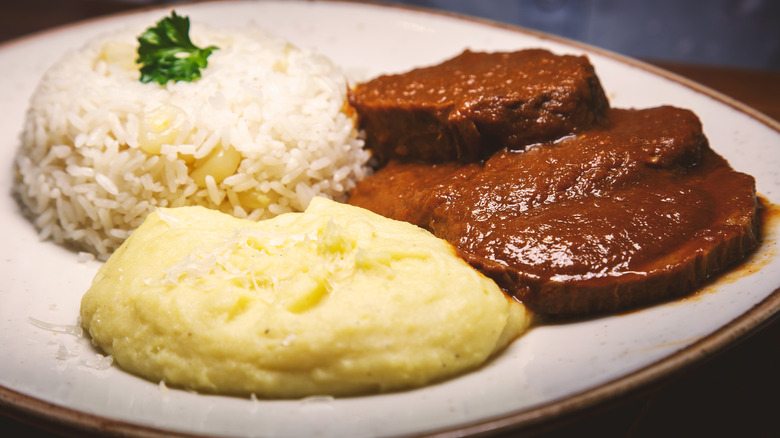 Aldo Raggio/Shutterstock
J.D. Salinger spent much of the rest of his life as a recluse, keeping away from the public eye and even refusing to publish his work. "Publishing is a terrible invasion of my privacy," he once said, via The New York Post. "I love to write. But I write just for myself and my own pleasure." 
While he may have kept his public appearances at a bare minimum, there was one public place where Salinger could regularly be found. The famously private writer was a big fan of the all-you-can-eat weekly suppers at First Congregational Church in Hartland, Vermont. Every Saturday, he would leave the privacy of his home simply to get a tasty plate loaded with their roast beef, mashed potatoes, and pie, according to The Daily Beast. However, in keeping with his generally reclusive nature, Salinger kept to himself while he was there. Rather than chatting with other diners, Salinger simply wrote quietly in his notebooks while he ate his meal.
Unfortunately, as Salinger grew older, his health declined, and he was unable to make the regular trip up to Hartland. But that didn't stop him from getting his favorite meal every week. Nearer to the end of his life, Salinger's wife, Colleen O'Neill, would make the drive to the First Congregational Church each Saturday and bring him back a plate of his favorite roast beef, so he could still enjoy it without having to leave his home.