Why TikTok Is Critiquing This Pop-Up Squid Game Restaurant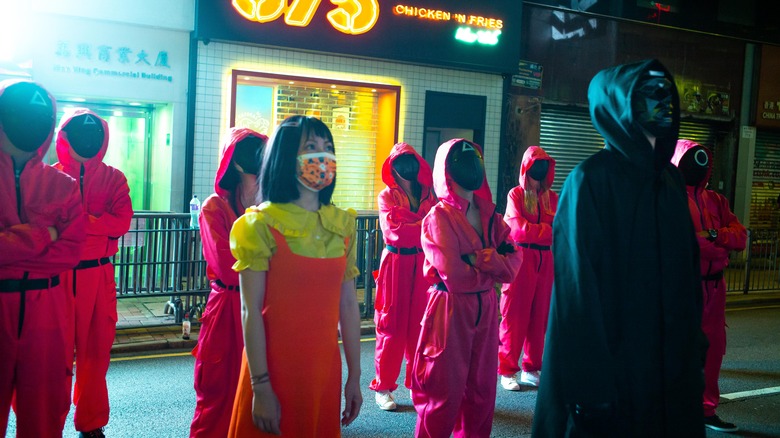 Billy H.c. Kwok/Getty Images
"I didn't know you could incorporate Squid Game into food, but this was super cool," TikTok user JT Casey commented as he entered what he called the world's first "Squid Game"-themed pop up restaurant in Los Angeles. Inside, as seen in a video the same person shared, "Squid Game" was broadcasted from surrounding televisions and workers wore the same green jumpsuits as the characters in the show. After two hours waiting behind an excessively long line, he walked away with the Sang-woo burger, which was "pretty good."
As of writing, the video has accrued 5.3 million views, most of which appear aghast at how far society's obsession with the show has gone. "I don't even want to watch the show anymore," one wrote. "It just seems massively overrated at this point." More pointed critiques noted that "a show critiquing capitalism gets capitalized." "I feel bad for the creator of 'Squid Game,'" a third sighed.
This is a strange reaction because the pop-up is nowhere near the first establishment to piggy-back off of the reaction the show's critique provoked. For example, Eater revealed that cafe in Seattle is hosting their own "Squid Games." One could perhaps make the case that the levels of capital involved are different, but that doesn't erase that "Squid Game" and all of its criticisms of capitalism occurs within the arena of capitalism.
Capitalism capitalizes
While it is right to note the irony in how the show that has a bone to pick with how the exploitative structures of capitalism have been redeployed to make profit, it is also worth noting that any consumed critique has to do this. We're used to giant brands incorporating social justice slogans into their marketing. For example, Coke came out against the voting restrictions in Georgia. Admittedly, in AJC's coverage, Coke came across as more uncertain. The point, though, is that businesses have an incentive to redirect cultural shifts into their model.
Banksy, an acclaimed street artist, is an easy illustration of this. Graffiti doesn't lend itself to capitalism because it is for public consumption. Banksy in particular tends to use the public nature of graffiti to spread anti-capitalist messages, as Banksy Explained, well, explains. But WorldCrunch notes the same works now draw massive sums at private auctions: "Collectors love to be despised this way: It's so chic. Their revenge is to buy out their critics," the outlet revealed. They start to wear the critique as signs of how cool they are. Sometimes it fails like the Kendall Jenner Pepsi ad that was riding on the wave of the Fergusson Protests. But most of the time it works. 
In that view, "Squid Game" both shakes people into seeing the problems with their economic order but also opens itself to the possibility of becoming trendy, which means pop-up restaurants galore.