Jamie Oliver's Fried Rice Recipe Went Viral For All The Wrong Reasons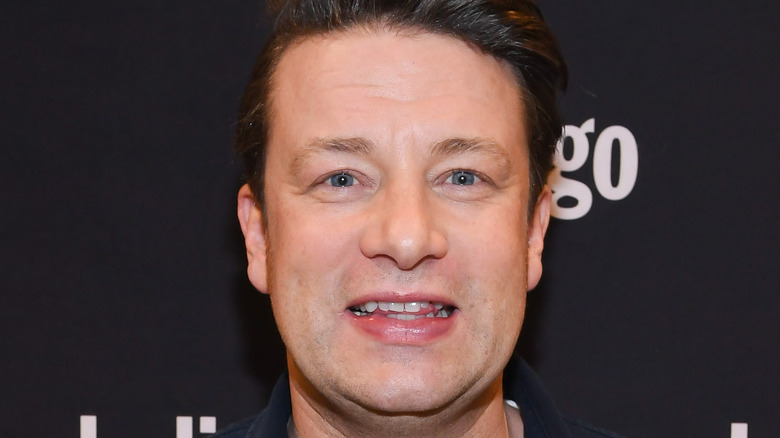 George Pimentel/Getty Images
Celebrity chef Jamie Oliver may be known for his expertise in making traditional British recipes, and he's great at cooking up healthy versions of American comfort food too, but when it comes to Asian cuisine ... well, let's just say it isn't exactly his cup of tea. On one episode of his show "Quick and Easy Food," that has since gone viral on social media after it was posted to YouTube, Jamie Oliver demonstrated, step-by-step, how he makes Asian-style fried rice with only five ingredients. 
His recipe calls for spring onions, chili jam, two eggs, silken tofu, and, to top it all off, a packet of pre-cooked white rice. Though Oliver himself confidently described the dish as "fantastic stir-fried rice," viewers of the clip were quick to disagree, as it was apparently neither fantastic nor stir-fried — nor was it even made properly enough to deserve to be called fried rice. "Whenever my fried rice doesn't turn out the way I want, I watch this video to remind me of how much worse it could have been," one user commented. Another said, "His reputation as a chef is just falling apart like his tofu."
What's so bad about Jamie Oliver's egg fried rice?
According to Nigel Ng, stand-up comedian and creator of the character Uncle Roger, whose YouTube channel is dedicated almost entirely to evaluating dishes made by celebrity chefs, Jamie Oliver's recipe is full of discrepancies from start to finish (via YouTube). To begin with, Oliver stir-fries it in a saucepan instead of a wok. "You have 25 cookbooks but you can't afford one wok?" Ng says in the video. "Uncle Roger will send you one wok for free, Jamie. No problem." 
But the wok, as Nigel Ng (as Uncle Roger) immediately discovers, is just the half of it. Jamie Oliver uses olive oil in the recipe, adding a flavor profile absent in Asian cuisine; he doesn't include any garlic; and uses an unheard-of ingredient: chili jam. Oliver makes another crucial error, according to Uncle Roger: He pan fries the spring onions, which will cause them to wilt. "Spring onion is garnish. You put spring onion as the last thing in your meal, not the first thing in your frying pan," Ng explains. But what really takes the cake, according to Ng, is the rice itself. Oliver uses pre-packaged white rice. "You hear sizzling? I hear my ancestors crying," he says. If it's enough to make Uncle Roger's ancestors cry, you know it has to be bad.