Domino's Fans Won't Want To Miss This Delivery Deal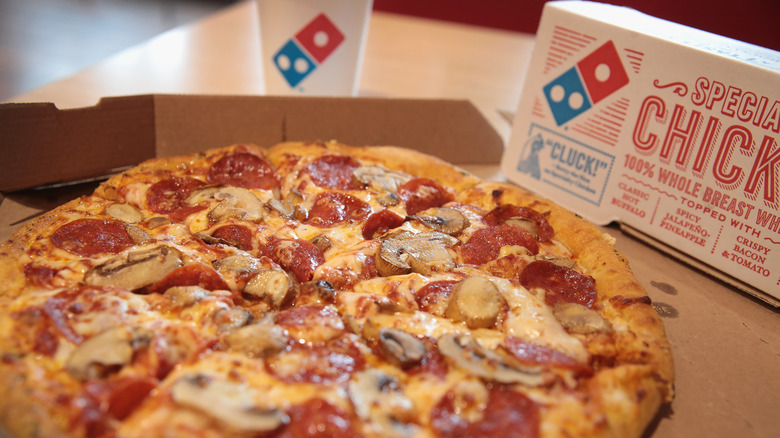 Scott Olson/Getty Images
When the late night hankering for pizza comes calling, the pizza delivery choices can be a tad overwhelming. Do you opt for Pizza Hut or Papa John's? What about Little Caesars? While the options may be plentiful, when it comes to fast food, Domino's wins the pizza game, hands down. Historically, Pizza Hut reigned supreme as the largest pizza chain in the world, until earlier this year, when Domino's officially surpassed this competing pizza-chain giant with 18,000 locations worldwide (via Eat This, Not That!). To top that off, a recent survey was conducted by Best Life on the best fast food chains of 2021, and Domino's came in an impressive second place, being bested only by Chick-fil-A.
From the perfect ratio between the gooey cheese, crispy crust, and superb sauce, to the affordable prices, if you're looking for something quick and easy, Domino's is hard to beat. Not to mention its unparalleled delivery services. "Delivery is what the consumer wants. And Domino's does it best," an analyst at Euromonitor International, Stephen Dutton, told CNN. "When you're sitting at home watching Netflix, you're going to think of Domino's." Living up to its reputation as the king of delivery, Domino's just unveiled its latest deal, and trust us, you won't want to miss out on this one.
Domino's is offering 49% off on a special pizza deal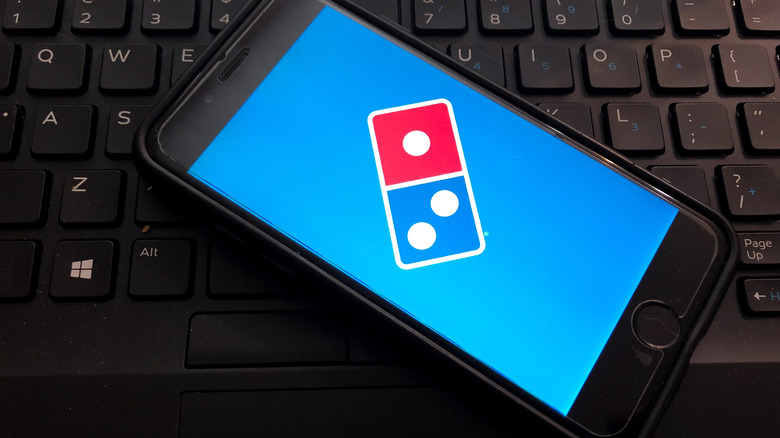 Lori Butcher/Shutterstock
The last couple of years have been the golden era of takeout food. For the most part, people have preferred eating from the safety of their own homes, over risking dining out. According to the New York Times, many pizza chefs even altered their original pizza recipes to cater towards delivery and potential reheating, creating the ultimate "high-quality portable pie." However, after a year and a half, the demand for delivery services is gradually slowing down. Nearly one third of U.S diners said they expected to be using delivery services less in the future, as noted by Eat This, Not That!.
The good news is, as a delivery-based service, Domino's has been incentivized to up its game. According to Brand Eating, this Michigan-based chain is now offering a whopping 49% off pizzas ordered online for car-side delivery. This limited time offer is available from 4 to 9 p.m., through November 14, 2021. If you are looking for a quick cheesy fix after a long day in the office, this offer was made for you. 
The best part? Domino's continues to guarantee only a two-minute wait for car-side deliveries, which is crucial as the colder weather gradually sets in. With the 49% savings applied, Domino's fans can order a large cheese pizza for $6.62, a large pizza with one topping for $7.64, and a large specialty pizza for only $9.68, among other options.