Trader Joe's Fans Are Loving Its Adorable Pet Advent Calendars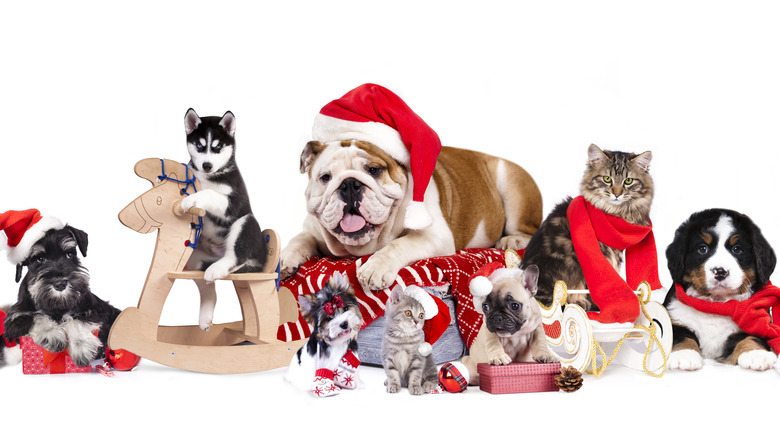 Liliya Kulianionak/Shutterstock
When it comes to the love we have for our pets, there's not much we wouldn't do for our furry companions. They become so intertwined in our lives, they even become like family members. And who doesn't love coming home after a long day and seeing their happy face at the door greeting you? Well, if you love your dog or cat as much as we do, you've probably thought about what to get them for the holidays. While you could go with something like a warm sweater or a new flashy collar, Trader Joe's fans have an even better idea.
Customers were excited to see a recent Instagram post by @traderjoesobsessed, who said that the grocery store's popular pet advent calendars are back. They wrote, "The doggy and kitty cat advent calendars are also in ($5.99 each)!!!!! What a day for new and returning items!!! Tag your furball loving friend! Will you be getting one??? Did you get one last year?" Their excited followers were quick to weigh in with their thoughts about the unique present.
What shoppers are saying about the return of the pet calendars
The cute pet advent calendars are the perfect gift for the picky pooch or feisty feline. According to the post, the dog treats are antibiotic free and contain a delicious mix of smoked salmon and sweet potato. The cat goodies also feature salmon, but are combined with dried seaweed that Trader Joe's states your kitty will go crazy for. Social media was thrilled to see the calendars back on store shelves and said they couldn't wait to pick up one for their four-legged friends. One wrote, "Got ours and the cat is going crazy trying to open the cabinet!" 
Another user said they were disappointed when they flew off the shelves last year and they couldn't find one, but explained they wouldn't be making that mistake again. "Saw they were available online and dropped everything for my new baby #chloe," they commented. A different Instagrammer added that she has a dog walking business and all of her pack members are getting one. "I'm glad they are a simple, two ingredient treat and not highly processed," she added. "Many of the dogs I walk are on strict diets so I have to be careful what kind of treats I get them." Looks like if you want to get your paws on these, you might want to head to your local Trader Joe's quickly.