Anne Burrell Fans Are Grossed Out By This Wedding Cake Video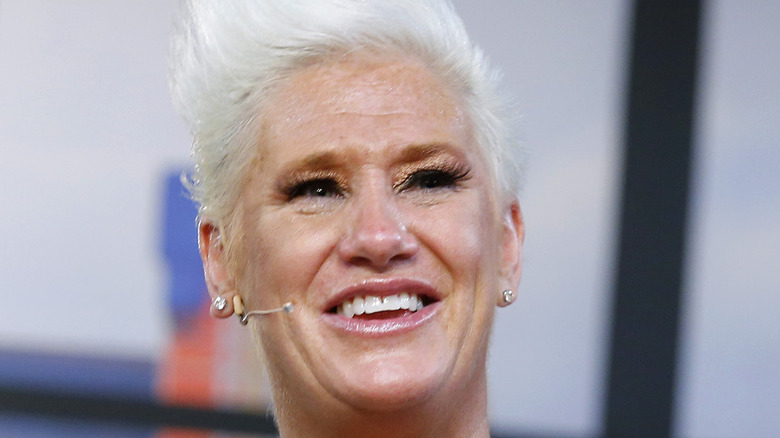 John Lamparski/Getty Images
Beloved Food Network personality and celebrity chef Anne Burrell recently wed the love of her life, marketing guru Stuart Claxton, in a picturesque fall event, per People. But apparently, the wedding reception lacked plates because a couple of guests felt it necessary to dig directly into the cake, using the same forks over and over again. And then sharing those forks with other guests.
For her part, Burrell thought the whole thing was a hoot, and posted it to her Instagram account pretty much as soon as she found out about it. "This little gem from the wedding just came to my attention from @melbasharlem!!! @chefmarcmurphy and @jeffmauro double dipping into the cake just makes me laugh and laugh!!!" she wrote in the post, also noting that the cake flavor was lemon, rosemary, and olive oil. The fellow Food Network chefs called out publicly in the video of course had to reply. "So now everybody knows," quipped Marc Murphy. Also, Jeff Mauro said, "I am so sorry! But not too sorry because that cake was ridiculous." Not too surprising since the zucchini cake was made by the Cake Boss, Buddy Valastro.
Fan reaction to the Anne Burrell wedding cake video
Although many people marveled over the beauty of the flower-adorned confection, most commenters on Instagram also called out the featured individuals for their less-than-sanitary ways. "All beautiful and I'm sure tasted delicious. The double dipping not so much! Especially in Covid times," commented @jacobinita. Indeed, the double-dipping of the forks into the cake, coupled with eating directly from it (rather than actually cutting a piece) grossed out more than a few people. User @luvley330 said, "Oh c'mon!" adding that it's disgusting to stick the forks in the cake. "Get a slice!"
Not everyone was appalled, however. In response to the criticism, @weaselsmommy wrote, "Let them eat, sounds delicious!" User @jen2cats added, "Boys will be boys!" and @winscher13 echoed the sentiment, saying, "Who cares about double dipping, that's what friends do. I think it's hilarious!"
Of course, there's always that one person who has to work a pun in there somewhere. "This takes the cake......lol," commented @metelskyma.