What The Name Taco Bell Really Means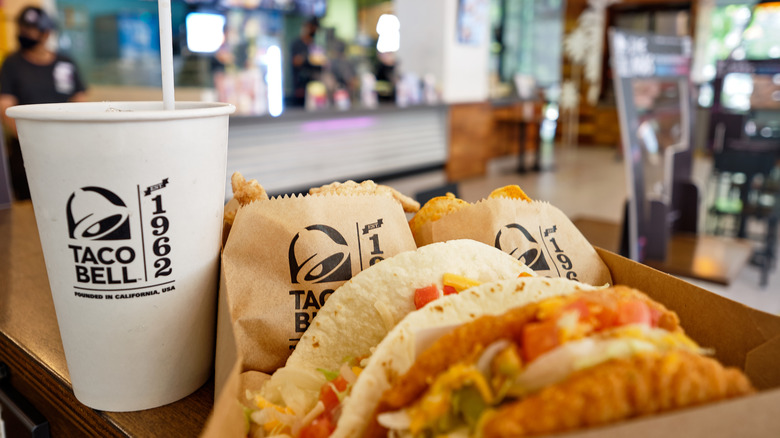 Kullapong Parcherat/Shutterstock
Restaurants come by their names in all sorts of bizarre ways. Just ask the founders of eateries like Modern Toilet, Heart Attack Grill, and Disaster Cafe, Thrillist notes. Yikes. Although Taco Bell utilizes a distinctive bell sound in much of its advertising, the name was inspired by a different type of bell — Glen Bell, that is.
Glen Bell founded the chain in 1954, but back then, the San Bernardino location was named Bell's Drive-In and Taco Tia, according to Taste of Home. This was little more than a hot dog stand that also served — you guessed it — tacos! The now-legendary brand changed its name to Taco Bell in 1962 when Bell opened another location in Downey, California. Today, there are more than 6,000 Taco Bells worldwide, so it's a safe bet that Glen Bell's legacy will continue to live on for years to come (via Taco Bell). That is, even though the legendary Mexican Pizza was discontinued in 2020. But we're not bitter. Not one bit.
The bell in Taco Bell is legendary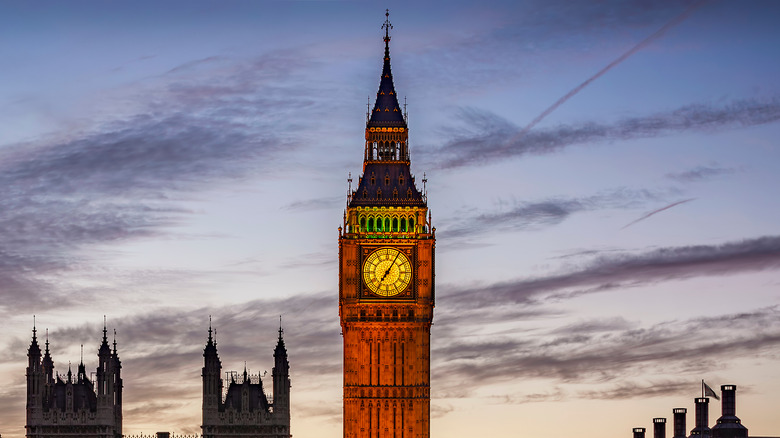 Sven Hansche/Shutterstock
The brand is only too happy to capitalize on the fortunately-named Glenn Bell's moniker when it comes to marketing. A chime is typically heard at the end of a Taco Bell commercial, and the sound is so well known that Taco Bell seized on an opportunity in 2018 to align with another well-known bell — Big Ben. 
In 2018, the London landmark was under construction, which silenced its ubiquitous bells. To make up for the lack of rings, Taco Bell digitized its trademark bell sound to the tune of the Westminster chimes. The publicity stunt was met with many chuckles, and preceded Taco Bell's first location opening in London. "Restoring Big Ben's bell with our bell was the perfect way to introduce ourselves to London in a way only Taco Bell can," said Marisa Thalberg, Taco Bell global chief brand officer, in a Taco Bell press release. "We don't take ourselves too seriously and have been known to play a prank or two. We hope our unique twist on Big Ben's chimes brought surprise and humor to Londoners; this was our little arrival gift as we gratefully show up on London's doorstep."
Well played Taco Bell. Well played.