Why So Many Skincare Products Contain Pumpkin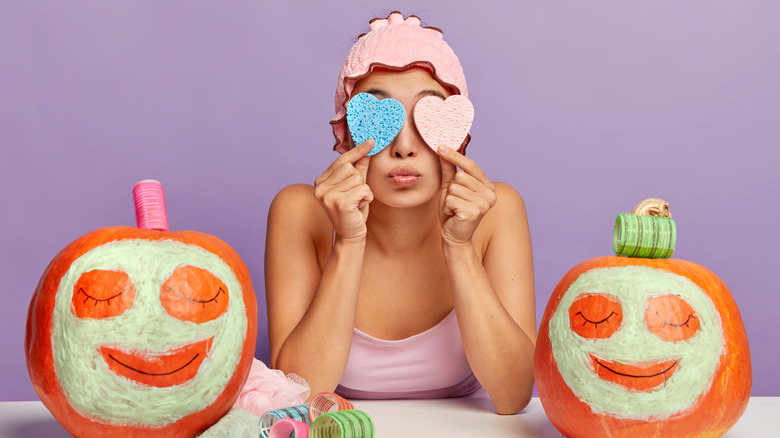 WAYHOME studio/Shutterstock
There's more to pumpkins than just enjoying them in pumpkin bread or pumpkin spice lattes. You can actually enjoy the benefits of pumpkin — both in and out. That's right, you heard us correctly. Your favorite fall plant can be made into creams and body scrubs, perfect for your dry skin this winter.
It's no surprise that popular skincare brands like The Body Shop and Peter Thomas Roth pumped out their own collections of pumpkin skincare this fall. Whether your budget is under $20 or if you're willing to splurge over $40 on a product, there will be a way to treat your skin to the fall weather.
However, these big beauty companies weren't the first to discover the benefits of applying pumpkin to your skin. According to the popular health food chain, Holland & Barrett, pumpkin was popularized by Korean beauty — Lifestyle Asia found it to be a major "exfoliating trend" back in 2019. And with its plethora of anti-inflammatory benefits, it makes sense why people are still obsessed with pumpkin skincare.
The scientific benefits of pumpkin on skin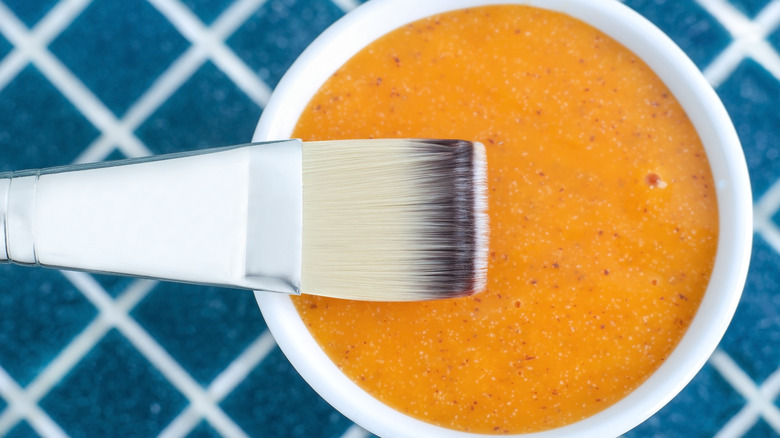 kazmulka/Shutterstock
There are a ton of scientific benefits that these iconic orange plants of the fall have on the skin.
First off, as dermatologist Dr. Lily Talakoub told pumpkins Dermstore contain two crucial vitamins: Vitamin C, which aids your body's immune system to ward off colds and the flu during the winter season, as well as Vitamin A, which can improve the appearance of damaged skin and also help with vision.
Most notably, pumpkin skincare products are often marketed to have skin-repairing agents and properties that reduce the appearance of wrinkles. And these claims are actually scientifically backed, according to Dr. Talakoub, who notes that pumpkins have beta-carotene, a derivative that has these magical effects on the skin. Likewise, Dr. Talakoub states, "Pumpkin is made up of alpha hydroxy acids (similar to glycolic acid and lactic acid), which are fruit acids that slough dead skin cells, increase cell turnover and keep the skin glowing."
And come on, what sounds better than a pumpkin spice facial?