This Is The Most Popular Fried Chicken Chain In The US, According To New Report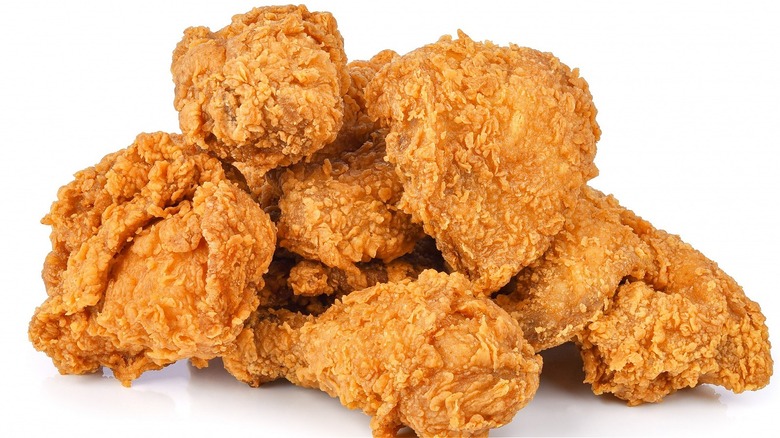 PotaeRin/Shutterstock
Do you love fried chicken? We know we sure do. An exemplary fried chicken will feature juicy meat with a crispy, well-seasoned crust: Something we enjoy making at home when we have the time and space to deal with a bunch of hot oil, and something we'll order out when we don't. Luckily, when we want to eat fried chicken out, there are tons of restaurants and fast food spots where we can find tasty versions of the dish, ranging from upscale interpretations at sit-down restaurants like Jean-George Vongerichten's NYC spot Perry St. to of, course, old standby chains such as Popeyes, Chick-fil-A, and Church's (via Food & Wine).
If you opt to indulge your fried chicken craving at one of the nation's many chains, you might not know where to turn. Do you go for Zaxby's Kickin' Chicken or Bojangles' Chicken 'n Biscuits? Well, according to a recent analysis by marketing agency TOP, Americans have one clear favorite when it comes to the best fried chicken chain. Read on to find out which one made the cut.
KFC ranks first among the fried chicken chains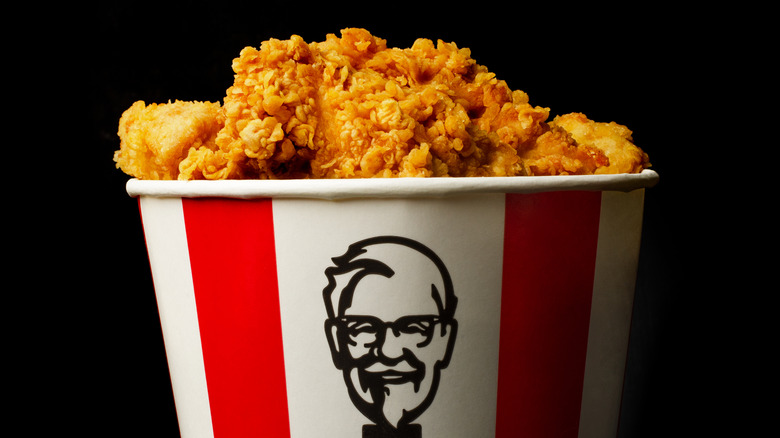 aperturesound/Shutterstock
When you read the words "fried chicken chain," we're willing to bet that three letters come into your head: K, F, and C. Kentucky Fried Chicken — or KFC as it's better known — got its start in Corbin, Kentucky back in 1930, opening its first official franchise location in Salt Lake City, Utah, 22 years later (via KFC). Today, the fast food chain is probably the most recognized slinger of fried chicken, boasting more than 24,000 locations across the world (via KFC). KFC is always fighting it out with other big-name fried chicken chains for the title of best chicken — Chick-fil-A and Popeyes are two of its biggest rivals — but according to a recent report by TOP, KFC currently ranks as Americans' favorite fried chicken chain.
The recently-released Fried Chicken Report demonstrates KFC as the clear winner, beating out other nationwide favorites including Cane's, Church's, and Zaxby's. KFC brought in the most customers in 14 states. And as the report notes, while fast food restaurants have been affected by the pandemic, with visits down 23 percent across all categories of fast food, fried chicken chains have suffered the least, with visits down only six percent. So there you have it: KFC still draws in diners. Excuse us while we dream of a 16-piece bucket.