Trader Joe's Shoppers Are Unimpressed By Its Sparkling Pomegranate Punch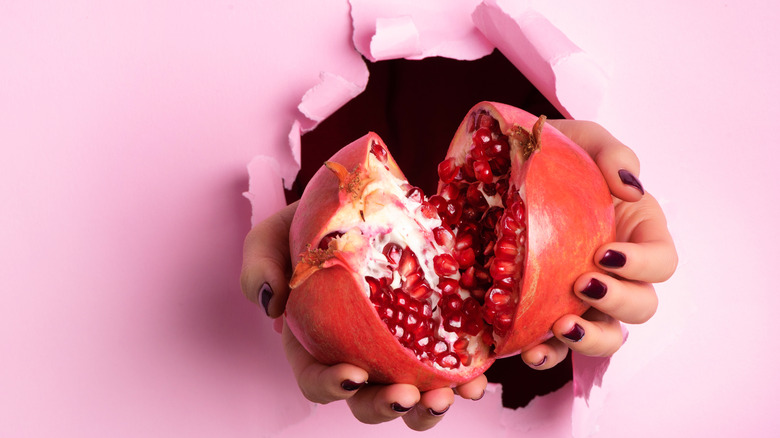 j.chizhe/Shutterstock
Trader Joe's recently debuted their Sparkling Pomegranate Punch Beverage, and naturally, consumers have thoughts!
Last week, Trader Joe's Aficionado, an Instagram account (unaffiliated with the grocery store) that posts new finds as they stumble upon them, shared the pomegranate punch discovery. "This drink sounds amazing!" the person behind the account raved in the post. "Can't wait for all the holiday cocktails I will be making with this drink!"
Trader Joe's hailed the canned drink as "bright and richly fruity, with just enough effervescence to make any occasion a reason to celebrate." The description on the box also promised the taste of delicious pomegranate, including various alliterations like "add some sassy sparkle." 
As of writing, the Trader Joe's Aficionado post has been liked nearly 2,600 times. It has also garnered a generally positive comments section. People wrote things like "Must try," "MIMOSAS," and "I need." Others noted that the ginger included in the drink could also add an extra pop of flavor, or lend itself to a Moscow Mule. 
However, reactions have changed over the course of a week, as more and more people have had the opportunity to try the beverage. To get why people have developed an embittered taste over Trader Joe's pomegranate punch, let's see the latest reactions below.
Some people didn't think Trader Joe's Sparkling Pomegranate Punch lived up to its name
Over the weekend, Trader Joe's Food Reviews, another unaffiliated Instagram account that actively reviewed the products highlighted, gave their thoughts about the punch in a post.
"Pomegranate is my all-time favorite fruit," the account owner began. "Literally I'm obsessed!" The post then descended into a realization that, in their opinion, the drink tasted medicinal — and with all of the other flavors flung together, the pomegranate taste was... lost.
Others chimed in, agreeing. "Tasted like emergen-C to me," one noted. "I agree with you! I was excited but they ruined it with the ginger," another wrote. A third seconded that assessment, adding, "I feel like it tasted like ginger...". 
Fortunately, there is redemption in this story. If the drink really does taste that much of ginger, then it really could be perfect for a Moscow Mule, as others suggested. After all, as All Recipes notes, a Moscow Mule requires ginger ale. And that's the final conclusion Trader Joe's Food Reviews reached.