Instagram Is Loving This Super Relatable McDonald's Joke Sign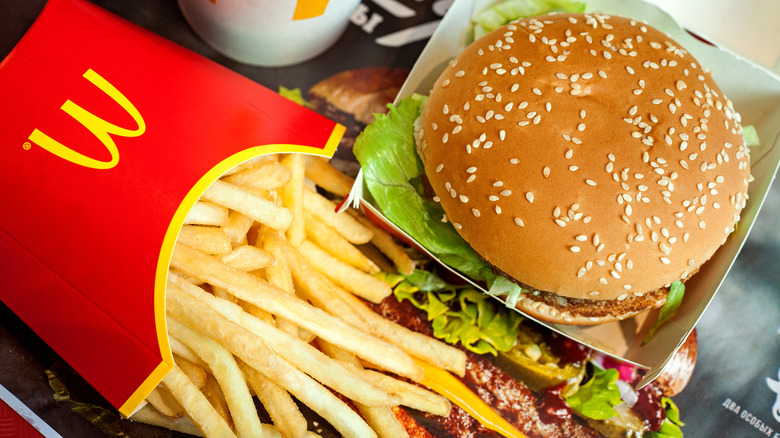 8th.creator/Shutterstock
McDonald's is a giant in the world of fast food. According to Reader's Digest, the brand has vastly different menu options at its locations around the world. For example, customers can grab a McKebab or a McFalafel in Israel, while in the Philippines, patrons can order the McSpaghetti — a jumble of pasta and chicken nuggets. Or they could pop into a McDonald's outlet in India and call for a spicy potato burger called the McAloo Tikki.
One thing is for sure: McDonald's seems to know how to keep its fans coming back. Earlier this year, the company worked on a special ad campaign that had a powerful message: Having a meal at McDonald's with those close to you is a priceless opportunity to bond with them and let go of your worries (via The Drum). The video ad showed a montage of different people at work, in a restaurant, or by the sea, laughing while sharing a meal from McDonald's. While that was more on the heart-warming side, the brand has now posted a sillier photo on Instagram that has its followers in splits.
Many can identify with this message
The photo posted by McDonald's on Instagram is simple but effective: It's a classic sign outside of a McDonald's location — but with text that reads, "wE hAvE fOoD At HoMe." This is a reference to what parents often tell their kids when they plead for fast food, and the blend of capital and lowercase letters is a nod to the "Spongebob" mocking meme, based on a Know Your Meme entry. The brand's caption is on point as well, reading, "someone needed to see this."
Naturally, fans are having a hoot. One commenter wrote, "said every mother...every." Another Instagram user joked, "probably doesn't help their business." Someone else mentioned that they never like it when their mom tells them they should just eat the food that's at home, adding that it's usually just plain old bread and water. However, one looked at the bright side and mentioned that there's often some ice cream available in the house. "thanks for reminding me... My ice cream is in the freezer."