KFC Wants You To Put This Bizarre Holiday Sweater On Your Fried Chicken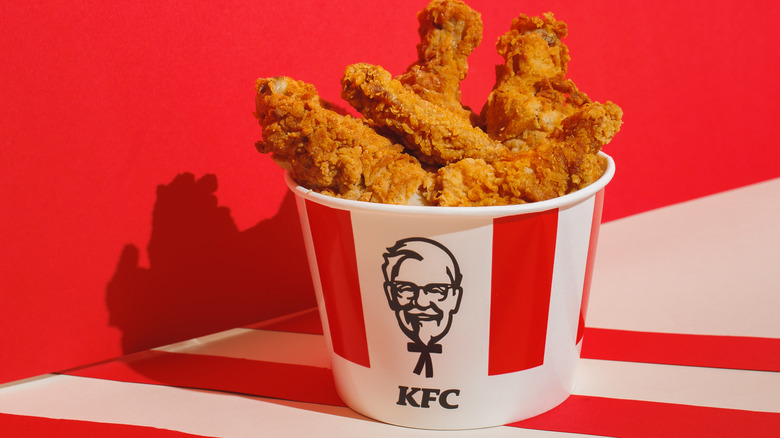 Pavlovska Yevheniia/Shutterstock
When it comes to holiday fried chicken, you probably can't beat KFC. According to CNN, diners in Japan have come to associate Christmas with the iconic chicken chain ever since the mid '70s when the brand started promoting their fried chicken as a traditional Christmas meal. The effort proved successful and has only increased in popularity. Meanwhile, folks stateside might not immediately line up to grab a bucket of chicken once December 24 rolls around, but the fast food empire aims to change that with a strange new garment made for your food.
According to a KFC press release posted at PR Newswire, anyone looking to tap into a bit of holiday cheer early can now settle in with a bucket of KFC chicken wrapped in a special sweater. The limited-edition bucket sweater acts like a can koozie in the sense that it slides over the outside of the bucket, but goes a step further by coming with built-in mittens that guarantee to lock in some of that fried chicken heat. This tempting deal seems like it should last for months, but if you want to get your hands on this novelty product, make sure to act fast, as the promotion has almost come to an end.
The perfect KFC bucket accessory
Anyone looking to get their own bucket sweater needs to get on the ball. According to PR Newswire, shoppers can only score this item online, and the sales end on November 11. To grab one, place a KFC order through the restaurant's website or app, and look for a special email with a unique link that lets you claim a bucket sweater. Everyone has to claim their accessories by November 13, as the item ships out in December, just in time for the end of the year. If you miss the bucket, you can look forward to a similarly-lighthearted design gracing KFC buckets this December that celebrates the outdoors and chicken together.
If you can't stand the thought of going one more day without a bucket sweater with built-in mittens guaranteed to keep you warm as you dig into a huge amount of fried chicken, make sure to order some KFC and score this deal while you can. No one knows if the chain plans to sponsor a similar campaign again and if you can get your hands on this promotional item, you have the potential to make your friends and family jealous with a one-of-a-kind bucket sweater perfect for holiday fried chicken feasts.