Geoffrey Zakarian's Pomegranate Hack Has Nothing To Do With Food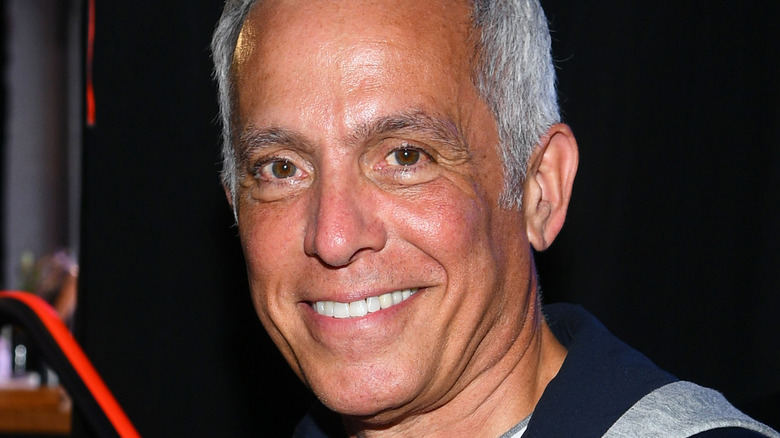 Dave Kotinsky/Getty Images
Celebrity chef Geoffrey Zakarian, is an inspiring man that has done really well for himself over the years. According to the Associated Press, the cook is very self-aware and knows that making it big in the restaurant industry is a tough task. "You cannot enter this business without having those (failures)," he explained during an interview. "It's not possible to not get beaten up a bit, and I think it adds to you."
Zakarian said that such incidents are unavoidable in the cutthroat food industry, but it's taught him to make backup plans. "You open 10 restaurants and three might not work," he revealed. "That's just the way it is." That said, the cookbook author does have interesting ways to deal with stress and shared one of his top tips on Instagram with his fans recently. His followers were super impressed with his technique and showered the famous chef with numerous compliments.
He killed two birds with one stone
Zakarian took to Instagram to share a video clip as he worked with a pomegranate and extracted seeds from the fruit in a unique manner. Basically, he smashed the fruit with a spatula. The chef's caption read, "In need of a stress reliever? Try deseeding a Pomegranate. Simply half it and start smashing!" His thousands of followers were excited to find about this hack and said they were looking forward to trying it out for themselves. 
One of them wrote, "Thanks chef! Smashing anything relieves stress!" Another mentioned that they didn't know that deseeding the fruit can be so simple. A different Instagram user offered an alternative method and said, "much easier way to do this is to cut off the top and cut 5 or 6 vertical lines. It will come apart if you follow the lines/ridges." Someone else said that this is also a great way to beat stress, until you accidentally hit yourself. So be careful if you attempt this technique at home!