Brach's New Candy Cane Flavor Is Inspired By This Nostalgic Dessert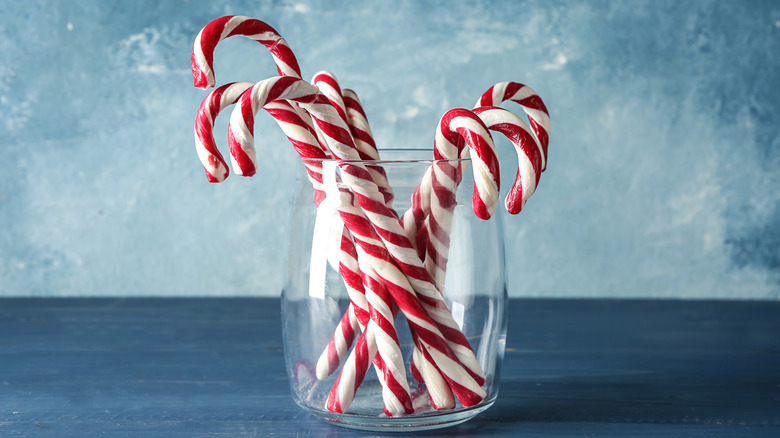 Pixel-Shot/Shutterstock
We may receive a commission on purchases made from links.
If you've ever enjoyed a candy cane over the holiday season, there's a good chance it was a Brach's candy cane. This candy giant, established in Chicago in 1904 (via Candy Favorites), is best known for its iconic candy corn — but also manufactures and sells a wide variety of candy canes (via Brach's).
Even if you've eaten many candy canes over the years, you probably haven't thought about them much — other than that they're everywhere during the holidays. The number one-selling non-chocolate seasonal candy, these festive canes likely came into existence in Europe in the 17th century, when many candy makers were working with pulled sugar (via History). Once solid white, the candy canes started sporting red stripes at the turn of the 20th century, when they also became characterized by one dominant flavor: peppermint.
Over the years, however, candy makers have experimented with a wide variety of candy cane flavors, from Spangler's Oreo-flavored candy canes (via Amazon) to Archie McPhee's mac & cheese-flavored holiday treats (via Archie McPhee). In the past, Brach's has sold cherry- and fruit punch-flavored candy canes, and this year they're featuring a fun new flavor.
It's a Funfetti candy cane!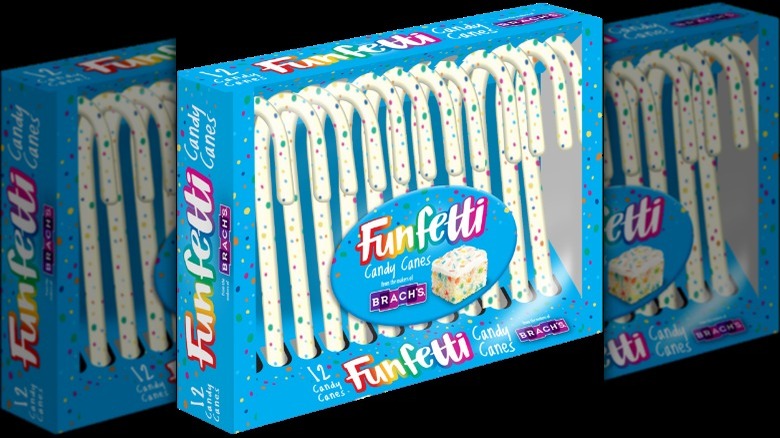 Brach's
Have you ever sunk a fork into a slice of Funfetti cake? This multi-colored dessert — which typically features rainbow sprinkles folded into the actual cake batter as well as lavished upon the layers of frosting — was first introduced in the form of a cake mix manufactured by Pillsbury in 1989 (via The New York Times). All the rage at birthday parties in the '90s, the Funfetti concept soon began to expand to other treats, such as Dunkaroos and Dannon yogurt. And beginning in late 2016, the dessert began making a comeback in a major way, showing up in Funfetti-themed cheesecake, sugar cookies, oatmeal, and even martinis (via the New York Times).
Funfetti desserts have held strong over the past few years, and this holiday season, Brach's has decided to feature the flavor in a new line of candy canes. In a press release shared with Mashed, the company says the brand's fans had been asking for this flavor for some time.
"Consumers buzzed, and Brach's listened," the press release stated. "After nearly 11,000 Tweets celebrated the sprinkled treat this year, the delicious birthday cake flavor of Funfetti officially joins Brach's holiday offerings! Nestled inside wrappers accented with the vibrant Funfetti dots fans know and love, these tweet-worthy treats feature actual rainbow sprinkles inside each cane."
The holiday season just got a lot more festive!