Trader Joe's Chile Chicken Burgers Recalled. Here's What We Know
You don't see it very often, but on occasion, even Trader Joe's has to recall certain products. According to Food Poisoning Bulletin, the company issued a recall notice on their Chile Lime Chicken Burgers and Spinach Feta Chicken Sliders due to a possible contamination with foreign materials, most likely shattered bones. While no one has choked on shards of bones in their chicken patties, some consumers have noticed bits and pieces of the offending contaminate in the burger patties.
Trader Joe's reports that the products feature the lot codes 2281, 2291, 2311, 2351, 2361, 2371, 2441, 2511, 2521, 2531, 2561, 2591, 2601, 2671, and 2721. If you do happen to own this product, make sure you check the box for these numbers, and if you find an offending item in your freezer, either throw it away or return it back to your local Trader Joe's for a refund. In the meantime, the grocery chain has since destroyed the offending stock at their locations, so have no fear if you want to try this item on your next grocery run.
Bones found in the recalled boxes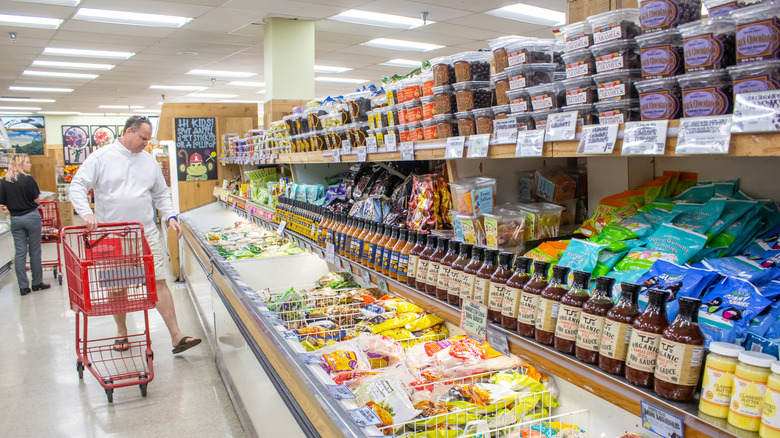 TonelsonProductions/Shutterstock
Food Poisoning Bulletin also reported that Trader Joe's Spinach Feta Chicken Sliders featured the same contaminate. The affected products came in nine pound packages filled with 72 sliders with lot codes reading 2361 or 2631. Both the Chile Lime Chicken Burgers and Spinach Feta Chicken Sliders got shipped to locations nationwide, so if you recently bought either item, you may very well have a recalled box of chicken burgers on your hands. In the event you have any questions regarding the recall, you can call Trader Joe's at (626) 599-3817, Monday through Friday from 6 a.m. to 6 p.m. (PST).
With any luck, the recall should move along quickly and anyone looking to enjoy these patties can do so again without worrying about the risk of bone shards appearing in their meal. In the meantime, make sure to properly dispose of these items in case you have recently bought any of the offending chicken products and do your part to ensure no one gets injured by this contamination.