McDonald's Is Finally Offering Oat Milk, But There's A Big Catch
For vegan, lactose-intolerant, or environmentally conscious coffee drinkers and oat milk fans, or those who just prefer the taste over dairy milk or other plant-based milk alternatives, McDonald's has good news for you. In a post shared on both Instagram and Facebook, McDonald's Australia announced their partnership with MILKLAB with the caption, "Together, at last. MILKLAB Oat Milk has officially joined the McCafe lineup." In the comments, McDonald's noted some limitations: "Available at participating restaurants. Extra charges apply." Another catch? It's currently only available in Australia, according to VegNews, who specifically reached out to McDonald's to ask about their plans to offer oat milk in North America as well.
For fans in Australia, though, it was welcome news. The post racked up thousands of likes and comments, with many commenters unable to contain their delight. "This is what dreams are made of," wrote one fan on Facebook. 
"I've been waiting so long to get an iced vanilla latte with oat milk from Macca's!" wrote another
A third fan chimed in that "it's awesome in lattes."
Oat milk works particularly well in coffee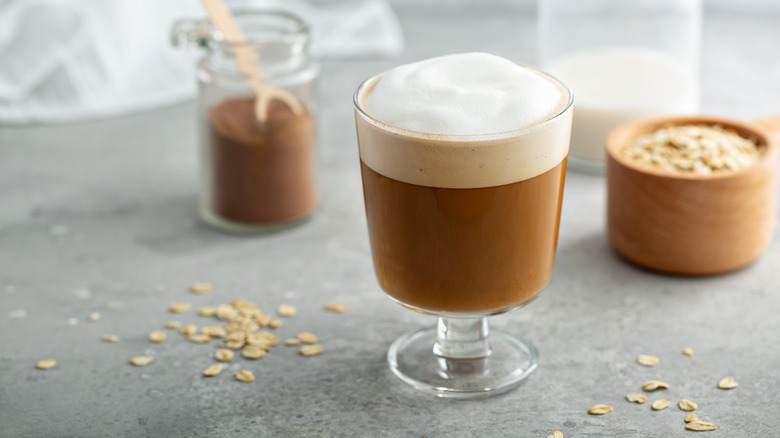 Elena Veselova/Shutterstock
Compared to other plant-based milks currently available, such as soy milk and almond milk, oat milk has a creamy texture and a neutral flavor that's close to dairy milk (via Epicurious). Oats soak up more water than the alternatives, making oat milk creamier than other non-dairy milks. According to Food 52, it's oat milk's creamy texture, neutral flavor, and the fact that you can whip it up into a stable foam that makes it so great in coffee. There's a reason oat milk was offered in more than 3,000 coffee shops in the US by 2019, up from a mere 10 in 2017 (via Perfect Daily Grind).
The MILKLAB oat milk that McDonald's plans to use in Australia was also developed with coffee drinkers in mind. According to MILKLAB's General Manager of Marketing, the oat milk "has been developed in a collaboration with baristas, with the single aim of creating the perfect alternative milk to enhance the coffee experience" (via New Idea). Fans outside of Australia will have to wait and see if McDonald's will offer oat milk elsewhere in the future. Considering that the McCafe itself originated in Australia before spreading around the world (via DMARGE), that just might be a real possibility. Stay tuned!