Aldi Fans Are Loving These Kid-Friendly Holiday Champagne Replacements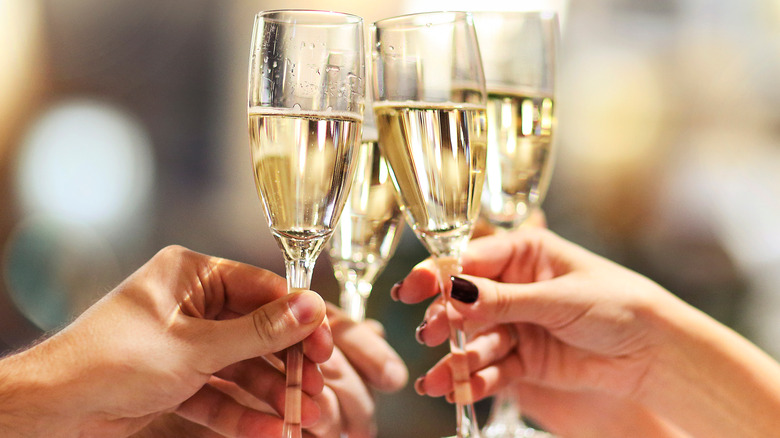 Dasha Petrenko/Shutterstock
The end of the year is approaching, which can only mean one thing: Lots of holiday celebrations are on the horizon. With Thanksgiving, Hanukkah, Christmas, and New Year's Eve all approaching, many people are getting ready to feast, frolic, and celebrate with family, friends, and loved ones. It is typically a joyous time of year, when many people tend to indulge a little more than usual. All that celebrating is usually accompanied with an alcoholic libation or two, but not every reveler necessarily wants to partake while attending a holiday party. Many people prefer to abstain from alcohol, and, of course, the holidays are a time for family, which means many people will be celebrating with their children, who are sure to want to be involved in every bit of the festive fun.
Luckily, Aldi has the perfect way to ensure everyone, young and old, feels included in the celebrations with three new Welch's brand non-alcoholic sparkling beverages. Welch's sparkling juices have long been a great non-alcoholic champagne alternative, but these new releases come with a festive twist. They come in seasonal, limited-edition metallic bottles, each adorned with festive phrases like "clink," "pop," and "fizz." This isn't the first time Welch's has gotten into the holiday spirit. In 2019, they launched special holiday-edition bottle designs at Target and Kroger, and the sparkling drinks were such a hit that they have brought similar festive releases to Aldi this year, per Beverage Industry.
Aldi fans loved all three types of these non-alcoholic sparkling beverages
These new beverages are completely alcohol-free and available in three different flavors: sparkling red grape juice, sparkling white grape juice, and sparkling apple cider, for just $2.98 per bottle. The popular Instagram account @adventuresinaldi was so delighted by the festive, kid-friendly new release that they couldn't resist making a post about the find. "Well if these aren't the cutest sparkling ciders & grape juices ever!! Love the packaging on these," they wrote. "Did you grab pop, clink, or fizz?!"
Their fellow Aldi fans were equally excited to see these non-alcoholic beverage offerings, and quite a few followers were quick to admit they had purchased all three different types of the tasty sparkling drink. "I got all three for my kiddos," commented one.
"Soooo good! My pregnancy wine replacement," wrote another.
"The fizz was great! Just like Apfelschorle," raved another fan. 
No matter how you like to celebrate the holidays, Aldi is sure to have the perfect treats and beverages to help make your celebrations a success. And if there are any teetotalers or young people on your holiday guest list this year, you will definitely want to grab a bottle or two of these festive, non-alcoholic Welch's sparkling beverages the next time you head to your local Aldi.