Costco Shoppers Think These Gummy Bears Are The Absolute Best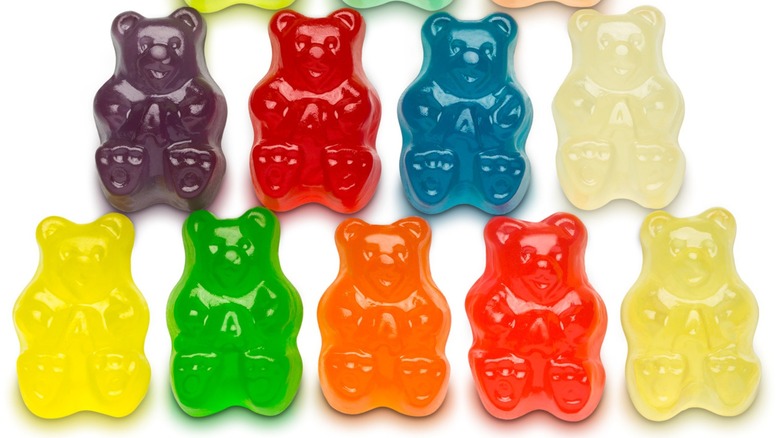 Albanese Candy
If you haven't tried the "World's Best" gummy bears - now's your chance at Costco. Giant bags of these high-end gummy bears have recently been found on the store's shelves. Instagram use @costcoguide shared on social media, "Albanese gummy bears at Costco! Have you tried these before? They're so good" (via Instagram). The Costco deal is for an 8-flavor pack and includes Alphonso Mango, Amity Raspberry, Asian Pear, Black Currant, Blood Orange, Crimson Cranberry, Fuji Apple, and Queen Pineapple.
The Albanese Candy company takes pride in its gummies, claiming their bears would bring home the gold in the gummi Olympics without fail (via the Albanese Candy website). It describes the candies as having a "soft texture" and "intense flavor." Additionally, they are free of fat and gluten. Fans of these chewable bears are absolutely thrilled. User luxurytax305 described them as "the Mercedes Benz of Gummies." Many agreed that these are the best of the best.
Instagram user dejonghesharon said, "I've never seen them at my Costco but Albanese are the best." Describing their love of these gummies, _pardonmyphressh adds, "somebody lied when they said haribos was the best..." A number of people outright declared them the "best gummy bears ever." 
The 'world's best' gummy bears in bulk
The gummy bear bag offered at Costco weighs 40 ounces, or 2.5 pounds, and is currently being sold for $6.99 at the location where @costcoguide found them (via Instagram). Considering that a 25-ounce "Family Share" bag is currently being sold on the Albanese Candy website for $7.99, this is a fantastic deal. Plus, the candies are advertised as having colors from real fruits and vegetables. However, the company website explains that pork-derived gelatin is used to make this treat, so it is not an option for vegans.
And if you've never tried the "best" bears, reviewer Shannon L Wichman may have had the best description (via the Albanese website): "I bought these on a whim, and they were exceptional. Unfortunately, I had to share the bag with my sister and my son. I will be buying these frequently! Above and beyond any expectations! The flavors are delicious and a little unexpected, and the texture of these little guys always delivers. Perfectly tender and very satisfying." Excuse us now, because we need to make a quick run to Costco.