This Limited-Time Arby's Sandwich Can Only Be Found In Canada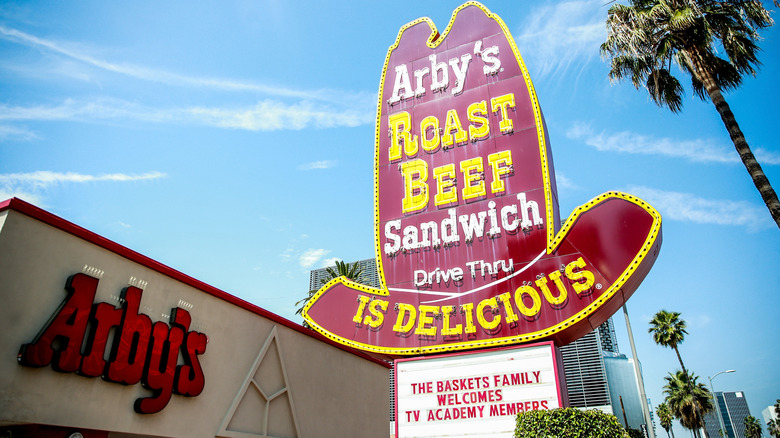 Rich Fury/Getty Images
Sometimes a restaurant chain finds a food item that fits perfectly with its brand. That's happened with Arby's. On November 13, Chew Boom reported that Arby's had introduced a Poutine Dip Sandwich as a limited-time offer. The Poutine Dip Sandwich features the brand's well-known roast beef and curly fries with cheese curds and gravy between a toasted roll. The sandwich also comes with a container of gravy for dunking. 
In fact, it's apparently been out a while as the YouTube channel That's Rank reviewed the sandwich on October 24. While the reviewer does not typically like Arby's, they could not repress their joy as through bit through the decadent mix of cheese, gravy, and fries. "The Arby's Poutine French Dip sandwich – bloody amazing," raved the reviewer. 
According to That's Rank, this sandwich is "comfort food jacked to the tees," which sounds like precisely the kind of thing a hungry Canadian might go for when craving meats Arby's famously brags about. Responding to the review's appearance in the poutine subreddit, a Redditor going by heartashley said, "As a Canadian living in USA, HELL YEAH." A bit later, though, tragedy struck. 
Many Arby's fans are geographically challenged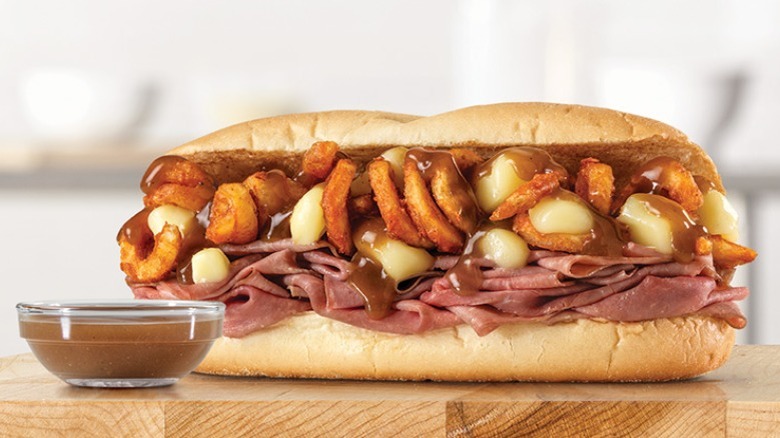 Arby's
After declaring their excitement about the Poutine Dip Sandwich in poutine subreddit, heartashley added a jaded update. "Edit: too good to be true cause it's only available in Canada as far as I can find. USA has failed me yet again." The delicious-sounding sandwich is being offered in Canada, the country in which poutine originated. One can only hope that the offering proves so popular in Canada that Arby's feels brave enough to test it in the United States. 
Millions of people suffer from the same geographical challenge. But there has to be something they can munch on as compensation for not being in Canada during the Poutine Dip Sandwich's run. Fortunately, That's Rank may have offered a solution during an aside. Poking the sandwich, the reviewer says, "This reminds me of a Canadian spin on a Primanti's sandwich from Pittsburgh." 
The Primanti's sandwich, as he explains, is a meat sandwich loaded with fries and coleslaw that steelworkers would take to the factory in their large workman's lunchboxes. That last bit is only a myth as Pittsburgh native Allie Wist discovered in a Saveur piece. (The sandwich was originally made for truckers stopping overnight in Pittsburgh). So, drizzle gravy on a sandwich from Primanti's or one that's billed as a Pittsburgh sandwich. It might feel unfair that Arby's teases the world with a limited-time offer with limited geographical availability. But this glorious mess of the sandwich might be your excuse to visit Canada.