How In-N-Out Burger Responded To This Governor's Offer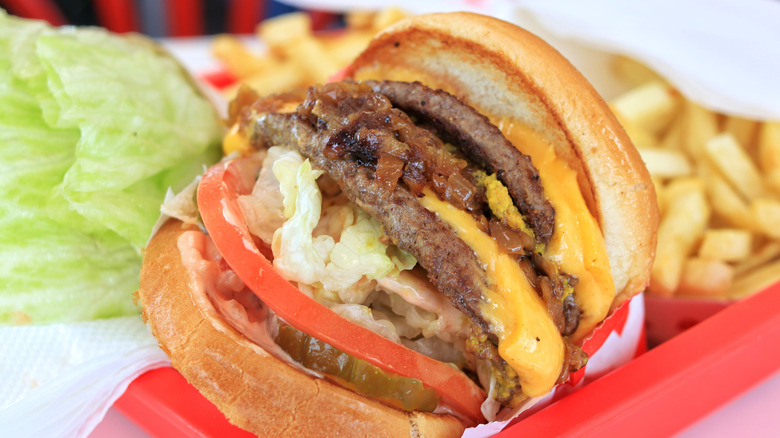 ShengYing Lin/Shutterstock
Some Floridians must have been very excited last week after the state's governor, Ron DeSantis, reached out to In-N-Out Burger to invite the California-based burger chain to move its operations to Florida. The reason for this? DeSantis disagrees with some California counties' policy to check for customers' proof of vaccination before they may dine indoors, Newsweek reports. Last month, an In-N-Out in Contra Costa County was forced to close temporarily for refusing to comply with the vaccine rules, according to ABC7. Similarly, the chain's only location in San Francisco had to shut its doors because it did not follow the health orders.
This caught the attention of DeSantis, who is opposed to vaccine mandates and has said, "We've got to stop bossing people around. We've got to stop the coercion" (via the Orlando Sentinel). So, as SFGate reports, he called In-N-Out Burger owner Lynsi Snyder-Ellingson to offer the chain a deal to move their headquarters to Florida. "There is no reason for a fast food restaurant to be forced to require proof of vaccination from customers," DeSantis' press secretary Christina Pushaw wrote to SFGate in an email. The meeting was described as "productive," with Florida representatives arguing that In-N-Out's supply chain needs could be just as easily met by Florida farms as California ones — and with less "government-imposed medical tyranny."
Don't get your hopes up, Florida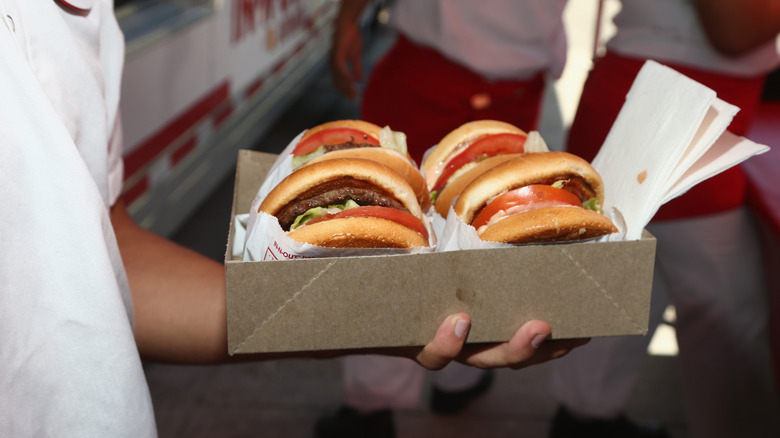 Tommaso Boddi/Getty Images
At this time, it appears that In-N-Out Burger is staying in California. Arnie Wensinger, In-N-Out's chief legal and business officer, shared with Newsweek in a statement that the conversation was held merely at the request of DeSantis. Then came the chain's clearly stated answer: "While we are thankful for the gracious invitation, In-N-Out Burger has no plans or intention to expand operations or move its corporate headquarters to Florida."
The answer does not seem to have dampened Floridians' hopes, though. Jimmy Patronis, Florida's Chief Financial Officer, shared his thoughts on Twitter, "Successful businesses can't move on a dime. Of course they don't want to signal to their employees, local politicians or Gavin Newsom that such an iconic institution is flirting with moving to Florida." Patronis continued to suggest that California's enforcement of vaccine mandates would one day convince the company to make the move. In fairness, a company such as In-N-Out could theoretically do this. But it would upend a 70-year-old business infrastructure. As USA Today noted, every food item is fresh and made to order without microwaves or freezers. To create an entirely new supply chain across the country that could handle this pressure seems like a large investment.