The Problem Fans Have With Little Debbie's Christmas Tree Cakes Ice Cream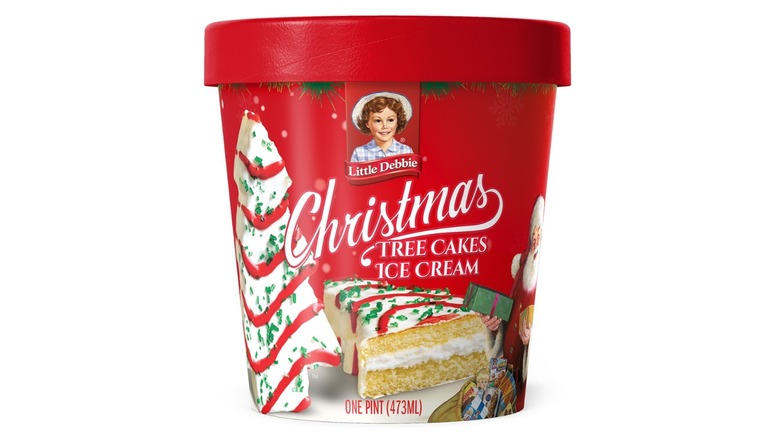 Little Debbie
The hype was too much. On October 14, 2021, USA Today carried the news that Little Debbie Christmas Tree Cakes, an iconic holiday snack, would be translated into an ice cream form. The product would be a vanilla flavor with cake chunks, sprinkles, and the treat's red icing spread throughout and was set to release exclusively at Walmart for $2.50 on November 1.
When the Little Debbie Christmas Tree Cake ice cream was released, it proved a success. The headline for Elite Daily's review calls the ice cream and cake pairing the "ultimate holiday combo." "TBH," the review reads, "once I hit the pound cake, it really tasted like the best mix of ice cream, frosting, and cake." So, the problem isn't that fans of the established treat were let down by its ice cream spin. Rather, there was a scheduling error. When Little Debbie celebrated the launch of the ice cream on Instagram, comments filled with variations of one complaint: "Is this available nationwide? I've checked 2 Walmarts today, and neither had it." Whether this was due to an error in the stocking schedule or rampages to purchase the new ice creams, Walmarts across the country lacked the sought-after Little Debbie Christmas Tree Cake ice cream tubs.
Hudsonville Ice Cream helped out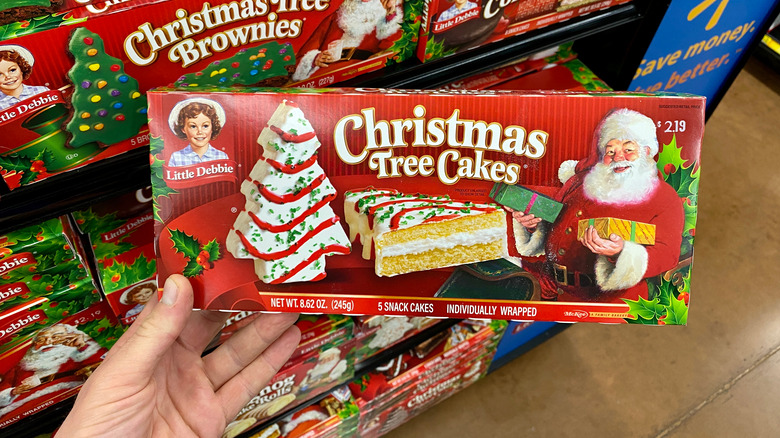 ZikG/Shutterstock
The disappointment spread across social media platforms. However, Little Debbie did little to address the situation. Fortunately, the social media team of Hudsonville Ice Cream — the company that helped Little Debbie with its first-ever ice cream product — was on the ball.
When comments to tweets sent out by both Little Debbie and Hudsonville Ice Cream started to fill with complaints that the product was missing from local Walmarts, the Hudsonville Ice Cream account began to ask for zip codes so that it could direct people to the nearest stores with the holiday treat stocked. "There is a limited supply [of the ice cream], but we are hearing from some shoppers that not all stores have set this product out on their shelves yet," the company explained. Elsewhere, the business performed the same service on its Facebook page. So, if you are one of the disappointed fans bereft of the latest twist on a holiday favorite, you might want to reach out.