Vegan Fried Rice Recipe
Miriam Hahn/Mashed
This vegan fried rice is a fantastic dish that you simply need in your life. Even if you love to load up on meat, it's always a good time to try something vegan that packs plenty of flavor. Recipe developer Miriam Hahn is known for coming up with simple and healthy recipes that taste just like something you would order at a restaurant, and this one is no exception. "Rice is such a good side dish, but on its own, it's pretty plain. I love this recipe because it dolls up regular rice with lots of flavor and also nutrition," Hahn raves. "Plus, it is quick and easy, especially if you have leftover rice!"
In addition to just rice, this dish also features plenty of veggies, and some of them have great health benefits. Take edamame, for example. "My favorite vegetable in this recipe is the shelled edamame. It's especially high in Vitamin K (good or bones) and folate, one of the B vitamins," Hahn raves. "Plus they are really packed with protein and fiber. I always have them on hand in my freezer. I buy the organic type whenever possible." Sounds great to us!
Keep reading to find out how to make this wonderful dish.
Gather the ingredients for this fried rice recipe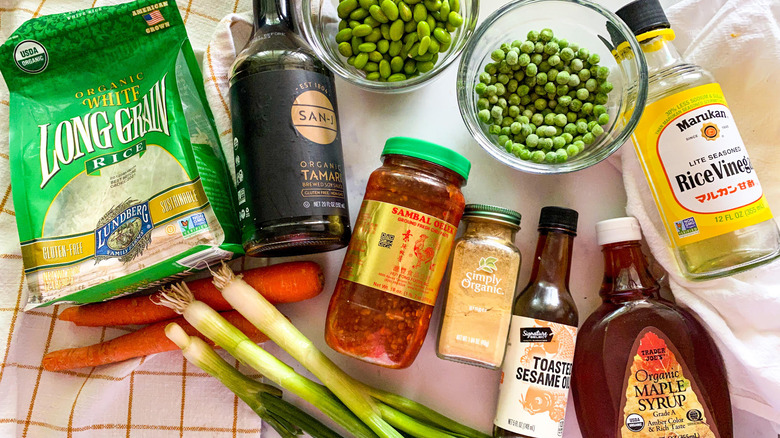 Miriam Hahn/Mashed
We're ready to begin! Are you? Start by making a list for the grocery store. To start, you will need some sesame oil. You also need to grab a few items from the produce section, including carrots and scallions. Next, you'll need some ingredients to add flavor. These items include soy sauce, rice vinegar, maple syrup, chili sauce, and ginger powder. You will also need a few cups of cooked rice.
Lastly, there are a few things you need from the freezer section, including peas and shelled edamame. Once you have all of these ingredients, you can proceed to the next step!
Sauté the veggies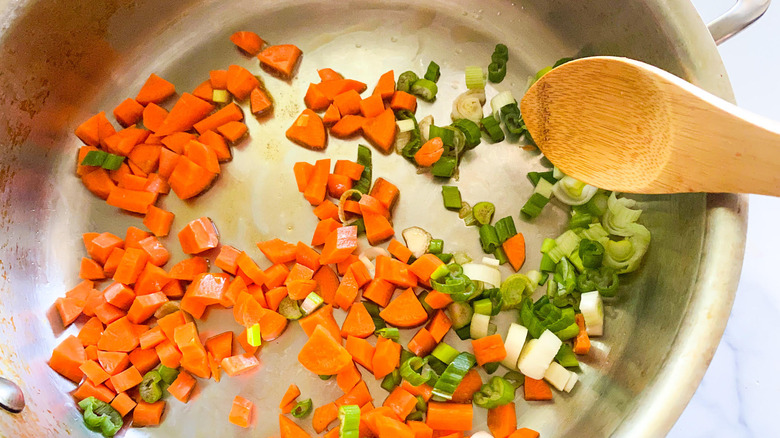 Miriam Hahn/Mashed
Let's get cooking. First, you will need to take out a large frying pan and put it on your burner. Crank the heat up to medium-high, as this is the perfect setting for cooking veggies. Then, add the oil. At this time, you'll want to add the carrots and the scallions. As a reminder, you should have diced these ahead of time.
Continue to cook the veggies for about five minutes. During this time, they should soften up a bit.
Make the sauce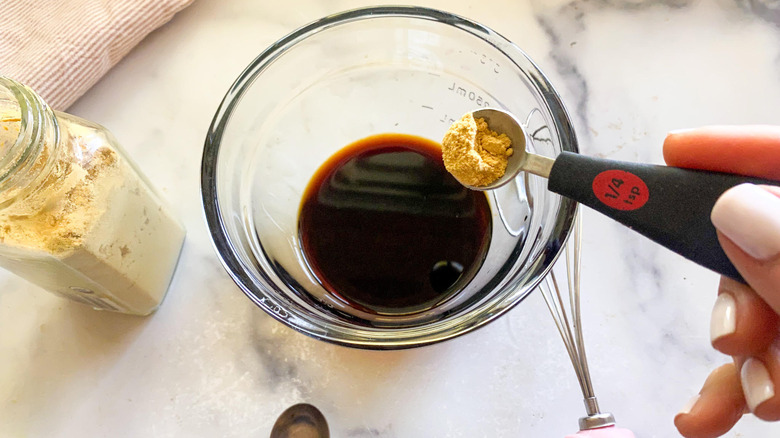 Miriam Hahn/Mashed
Now, it's time to multitask. While you cook the veggies, you can move on to the sauce part since it's so quick and easy. Take out a small bowl and add the soy sauce and rice vinegar first. These are both used frequently in most fried rice dishes, and it helps elevate the taste in the rice. Then, add the maple syrup for a little hint of sweetness and the chili sauce for a little bit of spice. Last but not least, throw in the ginger. Stir everything well to combine, and voila, there you have your sauce.
Add the rice, peas, and edamame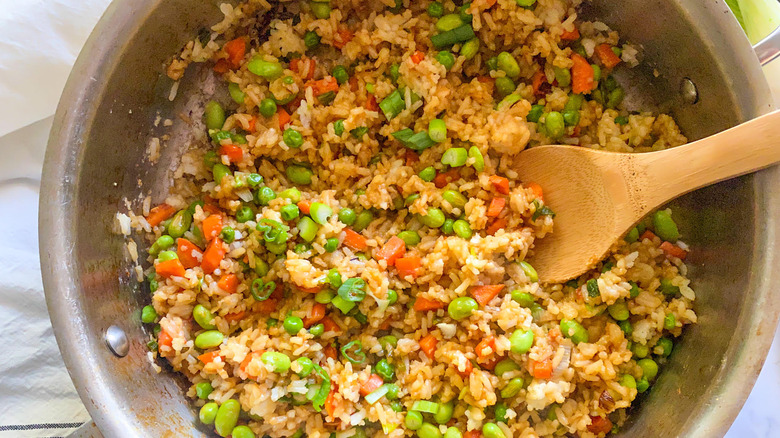 Miriam Hahn/Mashed
By now, the carrots and scallions should have reached their five-minute cooking time, and it's time to add in the rest of the goodies. Start with the cooked rice first. Then, toss the peas and the edamame into the frying pan. If you want to use other veggies, go for it! "You can use any veggies you have on hand. I love using red peppers and broccoli. Anything diced really small works great," Hahn notes.
The last thing you need to add on top is the sauce. Then, stir the rice together and cook for another five minutes on high heat. Once your timer goes off, you can take the rice off of the heat.
Serve and enjoy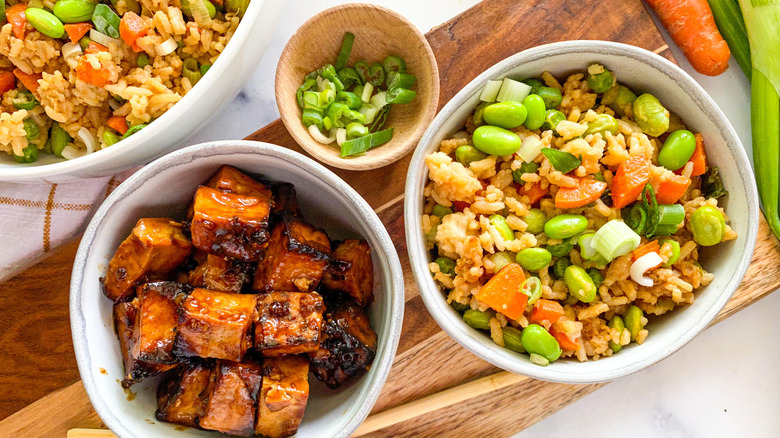 Miriam Hahn/Mashed
To serve this rice, you can either use bowls or simply put a few scoops on the side of your plate. It's great on its own, but it would also make an excellent side to accompany the main course. "My favorite way to serve this is with air-fried tofu, but it is also great with chicken, beef, or fish," Hahn says. "I also love using this rice in an Asian-inspired Buddha bowl or with spring rolls."
Anything leftover? No worries. "It stores nicely in a sealed container. I reheat in the oven, but a microwave is fine too," Hahn notes. Now go enjoy your fried rice!
Vegan Fried Rice Recipe
This vegan fried rice is a fantastic dish that you simply need in your life. Even if you love to load up on meat, this vegan dish will become a new favorite.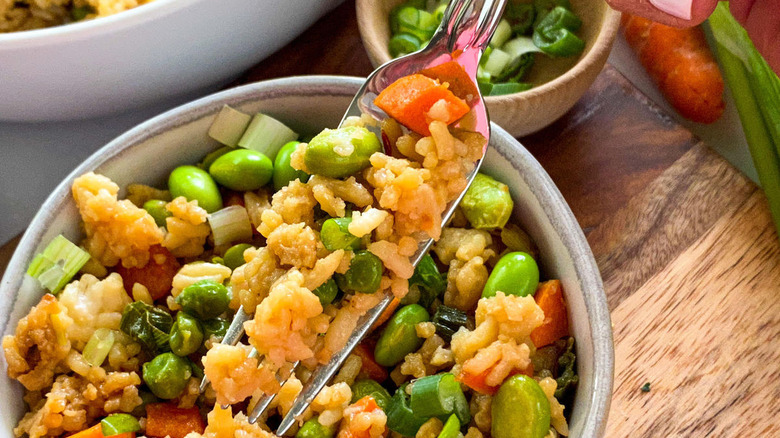 Ingredients
1 tablespoon sesame oil
½ cup diced carrots
2 scallions, chopped, plus more for topping
4 tablespoons soy sauce
½ tablespoon rice vinegar
½ tablespoon maple syrup
½ teaspoon chili sauce
½ teaspoon ginger powder
3 cups cooked rice
½ cup frozen peas, thawed
1 cup frozen, shelled edamame, thawed
Directions
Add the oil to a large frying pan and heat to medium-high heat. Put the carrots and scallions in the pan and cook for 5 minutes.
Combine the soy sauce, rice vinegar, maple syrup, chili sauce, and ginger in a small bowl.
Add the cooked rice, peas, and edamame to the frying pan. Top with sauce and cook on high for 5 minutes.
Top with more scallions and serve.
Nutrition
| | |
| --- | --- |
| Calories per Serving | 270 |
| Total Fat | 6.0 g |
| Saturated Fat | 0.9 g |
| Trans Fat | 0.0 g |
| Cholesterol | 0.0 mg |
| | |
| --- | --- |
| Total Carbohydrates | 44.3 g |
| Dietary Fiber | 4.1 g |
| Total Sugars | 4.3 g |
| Sodium | 922.1 mg |
| Protein | 9.9 g |