Aldi's Fudge-Covered Peppermint Cremes Are A Candy Cane Fan's Dream
If you can't get enough of all things holiday-themed, then you'll definitely want to make a trip to your local Aldi this season. Avid Aldi shoppers probably already know that they can get all kinds of great festive holiday treats this time of year, from their creative advent calendars to their sweet almond nogs and tasty holiday pies, according to Aldi. Now, the grocer is expanding its seasonal selection even further with the addition of delectable fudge-covered peppermint cremes, much to the delight of many shoppers.
Each rich Peppermint Creme Sandwich delivers a pop of seasonal sweetness with its rich coating of decadent dark fudge and bright topping of peppermint sprinkles, which is sure to delight any candy cane lover (via Aldi). The popular Instagram account @adventuresinaldi was so excited to see this seasonal buy in their local Aldi, they couldn't resist posting about it online. "TIS the season!! Fudge covered peppermint cremes!! YUM! You can find these & so many other sweet goodies in the special buy/Aldi Finds aisle this week! Are you a peppermint fan?! I am," they wrote.
Rave reviews of these peppermint creme sandwiches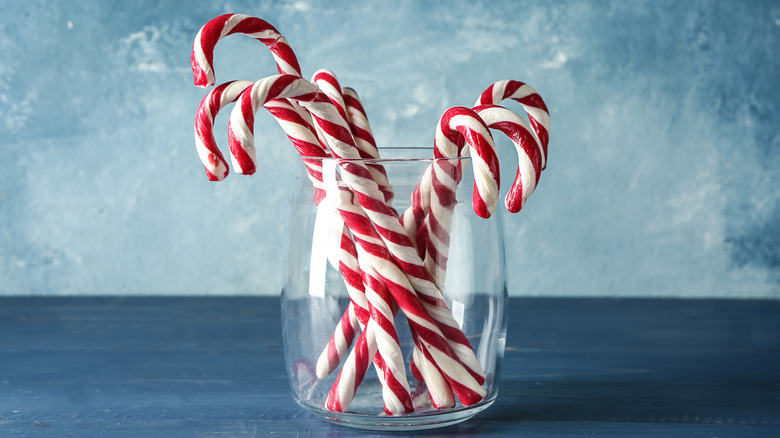 Pixel-Shot/Shutterstock
Many of the account's followers were equally excited by the arrival of these rich, flavorful dessert sandwiches. "These are so so good! We have to have our own separate assigned boxes at our house so we don't fight to the death if you eat the last one!" joked Instagram user @number1tia. "These are my FAV! So good!" agreed another Instagram user. 
Other followers were quick to suggest ways to make these cremes even more delicious, such as tossing them in the freezer for a few minutes before enjoying. These tasty sandwiches are also cute enough to be served as a topping for other sweet creations, such as ice cream or a festive cake, for an extra-special treat. They are also delicious enough to serve for dessert at a Christmas party or seasonal event. So if you have been looking to add to more variety to your collection of seasonal sweets, are shopping for the perfect dessert for a holiday party, or are just a huge fan of everything peppermint, then you will definitely want to add these tasty fudge-covered peppermint cremes to your holiday list this year.