Costco's Popular Tiramisu Cake Is On Sale With One Big Catch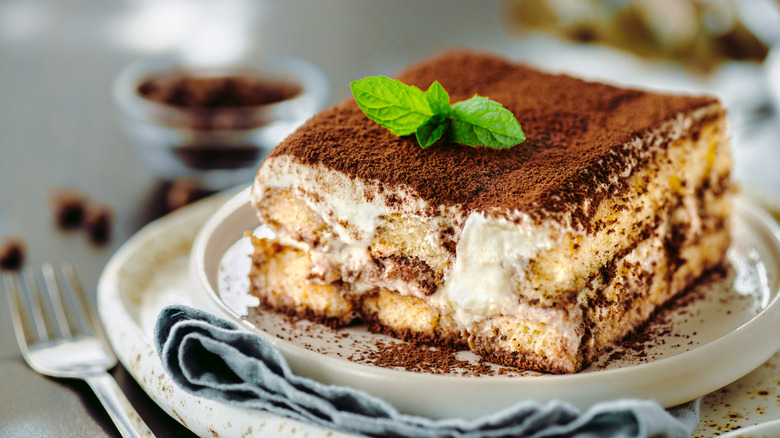 Fascinadora/Shutterstock
Whether you've been shopping at Costco for years or have only recently signed up for a membership, you've likely heard about a few popular items from the big-box retailer that customers absolutely love. According to Delish, brownie brittle, milk chocolate almonds, and the forever $5 rotisserie chicken are just a few cult-favorite products that Costco shoppers rave about. And then, of course, there's the infamous food court, where members can score a foot-long hot dog and a fountain soda for the low, low price of $1.50.
Costco's massive pumpkin pie is a seasonal favorite that many people pick up at this time of year, but it's not the only sweet treat offered by the store that can round out your Thanksgiving meal. If you don't happen to be a fan of the traditional Turkey Day dessert, or are simply looking to add some variety to the final course of the food-centric holiday, Costco's giant tiramisu bar cake is another well-loved confection that is more than worthy of a buy — especially if you're heading to the wholesale giant in the near future. The Italian dessert is on sale just in time for Thanksgiving, though there's one big catch to the discount that you'll want to know about as you plan your Costco shopping trip for the upcoming holiday.
Act fast to pick up Costco's tiramisu cake at a discounted price
If you've been waiting for the right time to finally spring for Costco's popular tiramisu bar cake, now might finally be your chance. Described by one reviewer as the "perfect adult dessert," the ready-to-eat, two-pound-plus treat is an excellent addition to the final course of your Thanksgiving meal, and to make things even better, the dessert is currently on major sale — but only for a limited time.
Costco-fan Instagram account @costco.hotbuys broke the news of the discounted treat to their followers on Wednesday, November 17 when they shared a short video of a display case at their local Costco that was filled with the coffee-flavored treat. The camera panned over several of the cakes before flashing to a sign declaring in bold, highlighted lettering that they are currently $2 off, bringing its final price from $16.99 down to $14.99. As an added bonus, Frugal Hotspot reports that there is no limit on the number of cakes you can purchase. However, you'll need to act fast if you want to stock up, as this amazing deal only runs through Sunday, November 21. Though it may still seem a bit early to do your Thanksgiving grocery shopping, we certainly think it's worth it to head to Costco now to ensure you'll be able to snag a few of these fan-favorite desserts at a great price.