Trader Joe's Shoppers Have Some Complaints About Its Thai Green Curry
Thai green curry is perceived to be a classic dish. Per National Geographic, the dish has attracted fans around the world thanks to the fact that it is full of spices. The curry has several variations depending on where you are. Interestingly, red and green curry aren't all that different from each other. A chef at a London-based eatery, Farang, told National Geographic,"red and green curry pastes are pretty much exactly the same, but the key difference is that dried red chillies are used in a red, as opposed to fresh green bird's eye chillies in a green curry."
Making Thai curry can be slightly cumbersome, but there are options that can make it a lot easier. For instance, Trader Joe's has a green curry product that is pretty accessible. An Instagram user spotted it at one of the locations and wrote, "This looks incredible, and I can not wait to buy this. #Thaifood is one of my favorite go to meals, and this fits the bill of what my tastebuds crave!"
Shoppers are divided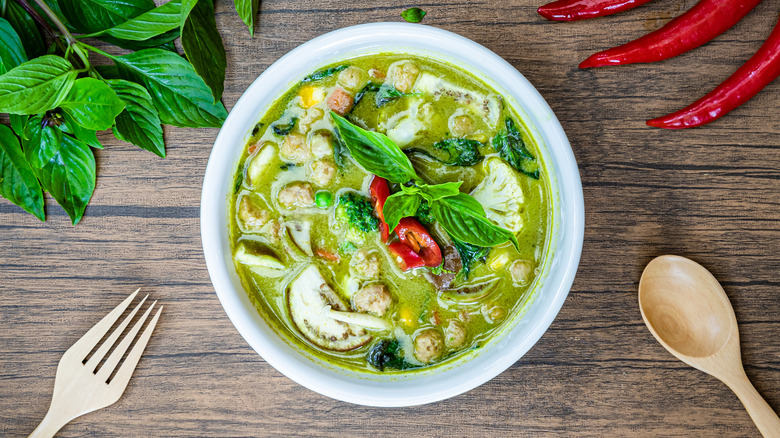 Foto by KKK/Shutterstock
Trader Joe's offers its customers a tempting vegan Thai curry option filled with ingredients such as tofu, vegetables, and Jasmine rice (via Instagram). Someone mentioned that the dish is just a bit too heavy on carbs, and they really wanted something lighter like cauliflower rice. The dish worked for others. "It's just the right amount of spicy and super flavorful," a fan wrote. "It was the perfect portion for lunch as well!"
Another Instagram user said that there was too much sodium in the dish, which made it a no-no for them. Another Trader Joe's shopper said that they would prefer to just have the sauce combined with protein and vegetables. Others were okay with the dish. "It's ONE meal folks. Don't get so hung up on the macros of one meal that you don't allow yourself to enjoy food that looks good to you," someone wrote.