Twitter Thinks GBBO 'Robbed' This Fan-Favorite Baker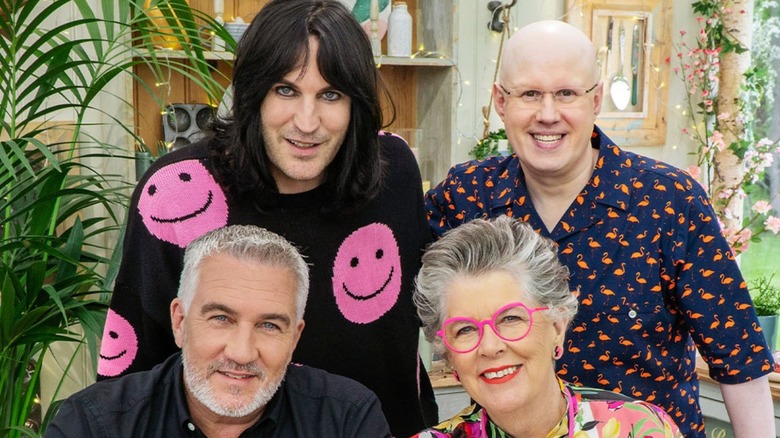 British Bake Off/Twitter
Spoiler Alert! The Great British Bake Off has its finalists. Crystelle, Chigs, and Giusseppe are all safe ... (drum roll, please) until next week. Jürgen was denied the opportunity to compete in the show's finale after overbaking a biscuit (*sigh*). Digital Spy will fill you in on the details. But it's not Jürgen's goodbye from the iconic baking show that has Twitter in a frenzy. It's what went down during the GBBO quarterfinals.
If you missed that particular GBBO episode, Daily Mail will give you the minute-by-minute. Here are the CliffNotes. Lizzie packed her bags and went home to the chagrin of the show's crestfallen Twitter fans. As a result of her loss, the GBBO trudged into the semis without Lizzie's stories of how an ostrich once ran away with her on it and of how Lizzie's pet pig Suzie slipped on ice and didn't make it — all of which is available to recap on The GBBO's Twitter page. Twitter's reaction to Lizzie's elimination (despite her beautifully baked, brilliantly decorated cake) is brutal. "Do the British not understand competition?!" tweeted one angry fan. " Lizzie was robbed. F*** all ya'll." Another emotional GBBO watcher tweeted, " That was sexism I am sorry. She kicked a**." Lizzie, however, isn't as worked up as the rest of us.
Lizzie's heartwarming GBBO goodbye
Lizzie might not be heading into the finals of the Great British Bake Off this season, but she's not exactly sweating her loss. "What a 10/10 experience!" she handwrote in a letter that the GBBO tweeted to fans. "Being on BAKE OFF has been mental. I went from being a mad Bake Off fan and stalker of the past bakers to being in the tent." Lizzie went on to gush, "It has been amazing meeting the most fabulous people and learning so much off them all" — including, apparently, "the benefits of peppermint tea (trust me, Freya and Crystelle used to drink every night)."
Lizzie's as proud of her showstopping rainbow-colored cake as we were awestruck by it. In fact, in an Insta post the GBBO contestant wrote that she had never been "truly proud" of herself until she baked the cake as a vibrant celebration of her neurodiversity.
So, here's the deal. Twitter might be busy tweet-fuming that "Lizzie was robbed." Lizzie herself, however? She'ss doing just fine TYVM.