Instagram Is Cracking Up Over Paul Hollywood's King Of Rock 'N' Roll Costume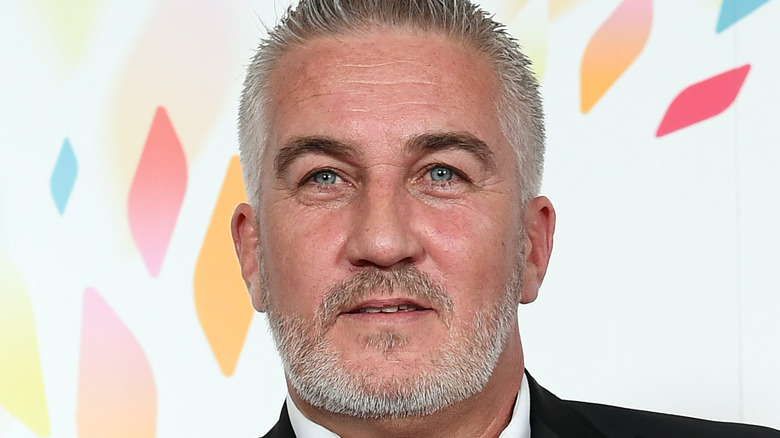 Gareth Cattermole/Getty Images
Food TV personality and celebrity chef Paul Hollywood sure knows how to keep his fans entertained. For example, in September, Hollywood put up a picture of himself all dressed up on Instagram. Who was he impersonating? Country legend Billy Ray Cyrus, of course! This was for "The Great British Bake Off" and his fans loved it and couldn't stop praising the chef for his willingness to step outside his comfort zone.
Also, he took Halloween rather seriously this year and dressed up as a White Walker from "Game of Thrones" (via Instagram). As always, his followers could not get enough of his adventurous side. "You didn't even have to wear contacts!" one fan joked.
Now, the chef is back with another costume surprise for his fans. This time around, it is a fitting tribute to an iconic musician. And yes, Paul Hollywood has done full justice to the King of Rock 'n' Roll with his special avatar.
It's an admirable attempt
Paul Hollywood has put up a colorful photo of himself and actor Noel Fielding on Instagram. The celebrity chef is dressed as Elvis Presley. "Good times @noel_fielding," he wrote a simple caption, accompanied by a laughing emoji.
Of course, Hollywood's fans are enjoying this very much. One of the top-rated comments read, "I think the producers have been putting something in Paul's tea... it's bloody epic!" Someone else joked that Hollywood and Noel Fielding make a great couple.
In case you are curious, this look is a part of "The Great British Bake Off." Viewers have unquestionably enjoyed watching these two as they experiment with wild looks and entertain fans with their antics. "My 11-year-old was laughing so much at this tonight...bring on the final episode," someone wrote. Another Instagram user mentioned that they are definitely going to miss watching Hollywood and the rest of the team on the TV show as it wraps up the current season.