Krispy Kreme Lovers Won't Want To Miss This Friendsgiving Deal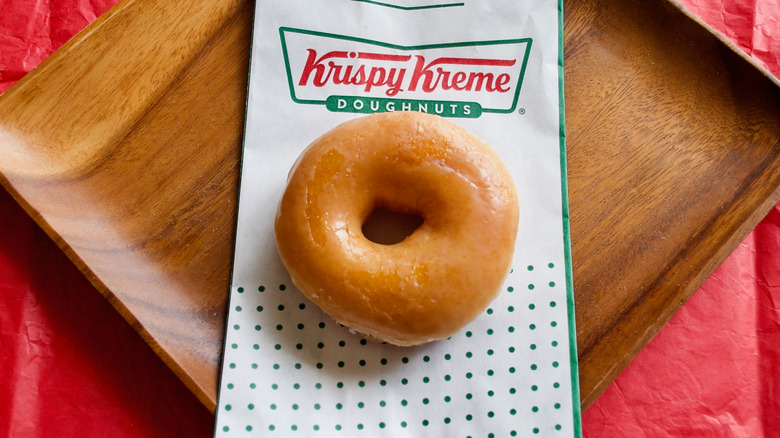 EWY Media/Shutterstock
When you're hankering for a breakfast treat in the morning, nothing satisfies a sweet tooth quite like a delicious doughnut. Light, airy, and oh-so flavorful, no one can deny that doughnuts are the finest fried dough treats in America. And regardless of where you live, these circles of happiness are never too far away. Whether you are close to a Dunkin', a Starbucks, or even a local gas station, there are numerous spots where you can get your doughnut fix.
However, we can all agree that when it comes to doughnut-specific joints, Krispy Kreme is one of the best. Founded in Salem, North Carolina, this doughnut-based chain has grown into an international sensation with more than 1,000 locations across the globe (via Yahoo). Whether you're a sprinkle lover or jelly-doughnut fan, Krispy Kreme has it all. And let's not forget about the ultimate star of the Krispy Kreme line-up: the original glazed doughnut. The best part about doughnuts? They are the perfect tasty treat to share with friends. And with Friendsgiving less than a week away, Krispy Kreme is celebrating the occasion with a sweet new deal.
Mix things up this year with a Thanksgiving treat other than pie!
Who says you need to celebrate Thanksgiving just once? Even though Thanksgiving is still a week away, friends around the country are getting together for Friendsgiving gatherings. If you are attending any of your own events this year (or more than one), there are so many traditional mains and yummy sides that you can whip up to make you the star of Friendsgiving. But if you're looking to spice up Turkey Day this year, consider snagging two boxes of Krispy Kreme doughnuts.
According to Krispy Kreme, on Friday, November 19, and Saturday, November 20, the company is offering a $14-deal on two dozen doughnuts. That's 24 doughnuts for only $14! Lucky customers get to choose between two different bundled products. If you're gaga for glazed, you can opt for two Original Glazed Dozens, and if you want to mix things up, you can select one Original Glazed Dozen and one Classic Assorted Dozen. This holiday promotion is available at participating locations.
If the Classic Assorted Dozen piques your interest, don't miss out on the chance to select some of Krispy Kreme's Thanksgiving-themed treats. This doughnut chain has four different holiday creations available for snacking on: a Dutch Apple Pie, a Pecan Pie, The Gobbler, and a Cranberry Orange. Each of these "Gobbles of Gratitude" is just as delicious as it sounds.