Del Taco's Festive Hot Tamales Are Returning For The Holidays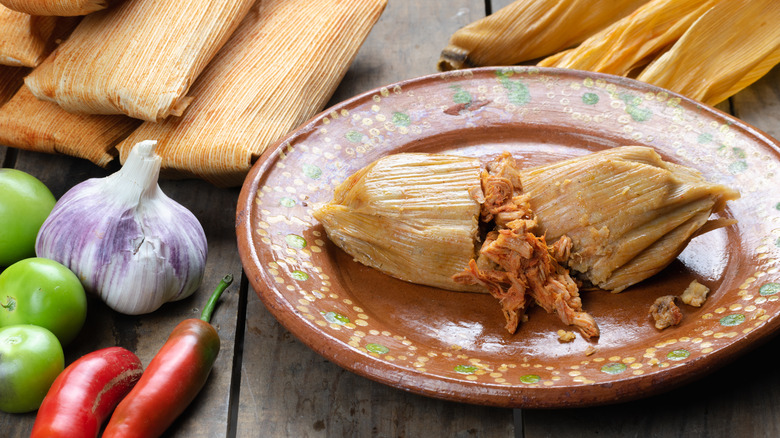 Daniel B4nda/Shutterstock
Few can deny that tamales taste great, but finding them can sometimes prove difficult. According to Tastes Better from Scratch, these items require a cook to spread a dough called masa on corn husks, which then get filled with whatever you like. They then need to get steamed until cooked through. The elaborate cooking process takes a bit of time, and not everyone can make them at home. Luckily, Del Taco has stepped up and now has a solution for everyone who needs to curb a quick tamale craving.
Globe Newswire reported that the fast-food chain has now brought back their holiday tamales stuffed with salsa, shredded pork, and masa. For a limited time at participating locations, Tex-Mex lovers can now pick up a variety of deals all centered around the return of this staple. Diners can pick up Red & Green Smothered Tamales, featuring two tamales covered in red and green sauces, sour cream, and cilantro, or opt to grab Chili Cheese Smothered Tamales that come with two tamales loaded with beef chili, cheddar cheese, and sour cream. If those sound a bit too heavy, Del Taco has some other deals that can keep your mouth watering.
Good news for tamale lovers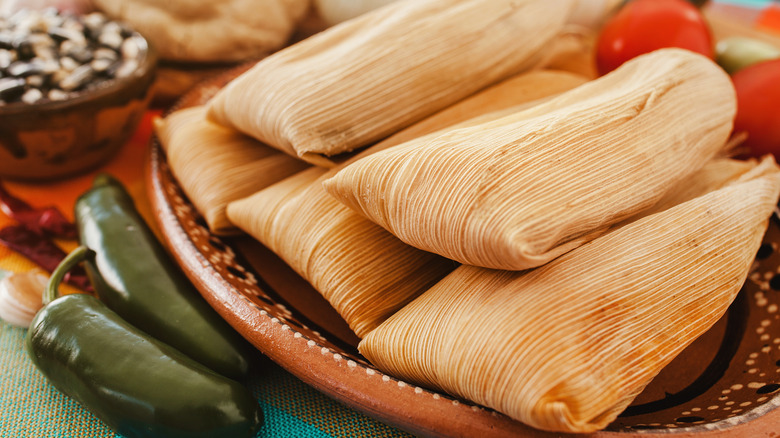 Marcos Castillo/Shutterstock
If you love the idea of chowing down on some tamales, but want a lighter meal, Del Taco has you covered. According to Globe Newswire, the chain also plans to sell two steamed tamales for $4, while extra hungry diners can upgrade to a four-pack. If your whole family really wants some tamales for dinner, look no further than Del Taco's Tamale Fiesta Pack, which comes with 12 tamales, utensils, and salsa. While everyone has the chance to enjoy the return of this holiday staple, DoorDash members can order the items all season long and get $3 off any order over $15 between November 29 and December 31.
Even if you never mentally put tamales and the winter holidays together before, Del Taco now plans to change your mind with this special offer. If you need something a bit spicier than eggnog and cookies to warm up with this winter, look no further than this deal. Just make sure to grab some tamales while you can. Once this deal runs out, you might have to wait another year to easily get your hands on this unique Tex-Mex meal.