Outback Steakhouse's New Butter Comes With A Caffeinated Twist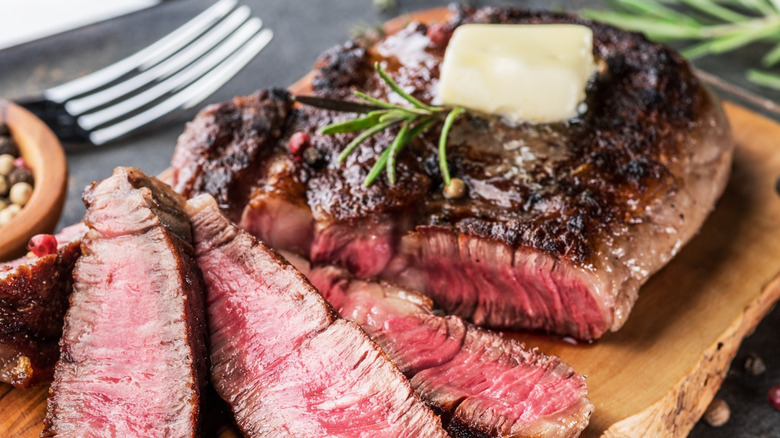 Valentyn Volkov/Shutterstock
Some foods, like peanut butter and jelly or milk and cookies, just seem to be made for each other. But other foods might require a bit more of a creative culinary mind to understand how their flavors complement each other. Espresso and steak are two items that one might not think to combine, with one being a breakfast staple and the other a dish of juicy, flavorful meat typically eaten as part of a hearty dinner. However, Outback Steakhouse's newest release is here to show you just how well these two strong, rich flavors can come together to create a wholly satisfying meal.
According to Chew Boom, the steakhouse chain just announced the launch of their bold new Espresso Butter, which will be available as a steak topping at participating Outback Steakhouse locations nationwide for a limited time. While this newest topping can be added to any steak on the menu for a small additional fee, it is also the star ingredient in the chain's newest dish — its savory Espresso Butter Porterhouse.
The porthouse was released alongside the Gingerbread Cookie Martini
The new Espresso Butter Porterhouse features the chain's famous hearty porterhouse steak, with an extra kick of bold flavor thanks to its smooth, bold Espresso Butter and your choice of any two fresh, tasty sides (per Outback Steakhouse). And what better to go along with this savory new dish than a sweet, festive new beverage? Outback Steakhouse will also be bringing back its popular Gingerbread Cookie Martini, which adds the perfect kick of sweetness to complement the bold flavors of the Espresso Butter Porterhouse.
This decadent new beverage is like a dessert and a cocktail all in one. According to Brand Eating, it's made with Absolut Vodka, Kahlúa, and Bailey's Irish Cream, all blended with creamy vanilla and sweet gingerbread syrup and topped with an indulgent dollop of whipped cream and a festive gingerbread cookie. So if you've been craving something savory or sweet or just want to try out some interesting new flavors this holiday season, you definitely won't want to miss out on these delicious new releases at Outback Steakhouse.