This Massive White Truffle Just Sold For Over $100,000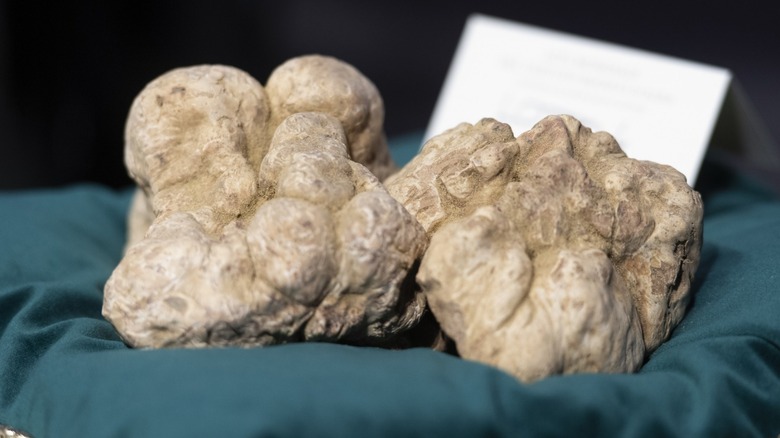 Stefano Guidi/Getty
Paying more than $100,000 for any luxury food item might seem excessive, but truffles are the culinary king of fungi, after all. The town of Alba in northern Italy recently auctioned off a prized 2-pound white truffle for 103,000 euros, the equivalent of $117,795.64, according to the New York Post. The truffle was purchased by chef Umberto Bombana, who is fittingly known by some as the "The King of White Truffles," per his restaurant's website. It's unclear whether Bombana will use the truffle for personal or professional cooking, but if he decides to prepare it at his Michelin-starred 8 ½ Otto e Mezzo eatery, diners will need to travel to Hong Kong to sample his truffle creations.
Food blogger Tiny Urban Kitchen describes that if you visit 8 ½ Otto e Mezzo during white truffle season, you will be awash in delicate, deep, and flavorful dishes. Diners can enjoy items spotlighting the delicacy, such as shaved white truffle over a poached egg on toast or fresh tagliolini with butter, Parmesan, and shaved Alba white truffles. "If you only get one white truffle dish, get this one. It's phenomenal," the review says about the tagliolini, a ribbon-shaped pasta that surely costs a pretty penny when topped with white truffle. So, what's the deal with these $100,000 fungi, and why would a top chef pay so much to obtain them?
Understanding white truffles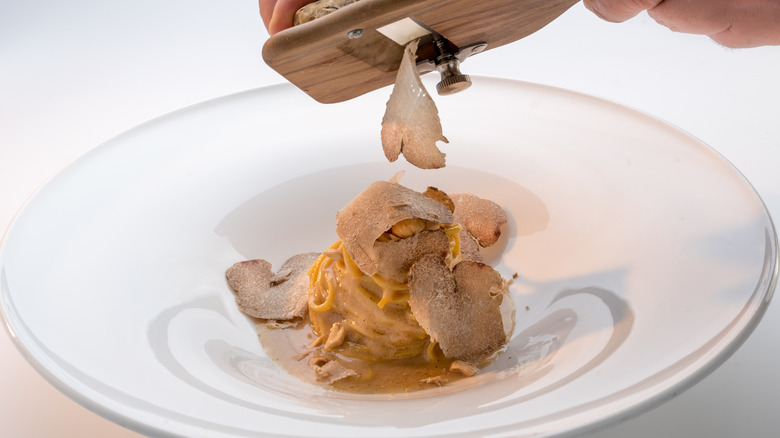 Framarzo/Shutterstock
Though Bombana's $118,000 truffle was expensive, it's not a record-breaking purchase by any means. A 3.3-pound Tuscan white truffle sold for $330,000 in 2007, Worthly reports. The buyer, Stanley Ho, bought another $330,000 white truffle that was slightly smaller in 2010. Truffles in general are highly desirable to foodies due to their unique aroma and flavor, but white truffles are particularly delicious and difficult to find, which means their hefty price tag is quite normal. That's especially true this year, since low rainfall in Italy led to fewer white truffles, reports the New York Post. No matter the year, there is no such thing as an affordable Alba white truffle, which can cost $3,000 to $4,000 per pound.
It's no surprise, then, that if you've ever bought something containing white truffle for cheap, there's a good chance that it was fake. For example, many of the "truffles" in truffle oil are likely a synthetic ingredient called 2,4-Dithiapentane, says Tasting Table. Plus, they don't necessarily even taste like true truffles. "Fake truffle flavoring is one of those things that's especially upsetting, because not only does it taste like a bad chemical version of the real thing, it's the flavor that almost everyone now associates with truffles," writes LA Weekly.